China may be the largest producer of TV shows globally with 40 episodes on average being produced each day, but these programs, unlike other "Made in China" products, have yet to gain popularity outside the country.
"None of the Chinese TV dramas has really entered the mainstream Western markets," says Cheng Chunli, deputy director of the department of program agency at China International Television Corporation, the biggest agent for Chinese TV programs.
"Our market is still limited to East Asia and Southeast Asia, and the Chinese TV shows that sell are mostly costume dramas."
Trade in cultural products totaled $15.84 billion in 2008, an increase of 22.6 percent year-on-year, according to a recent report by the Department of Trade in Services, which is under the Ministry of Commerce.
However, Cheng said export revenue from Chinese TV dramas has not really improved since 2000, and has remained roughly at around $10 million annually. "This is just too small for a big country like China," she said.
TV dramas play a very important role in the Chinese TV programming landscape.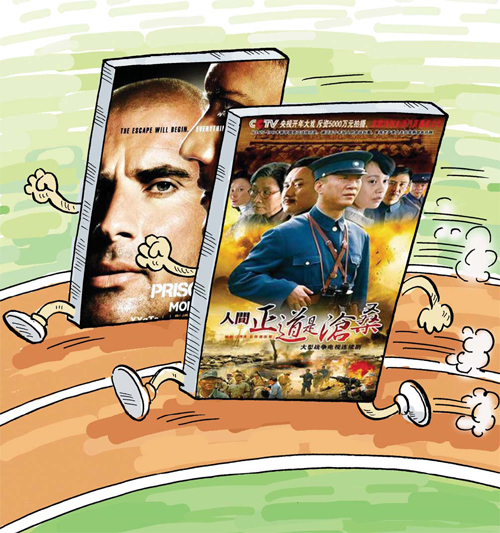 by Fan Jianping
In 2007, China produced a record 529 TV dramas totaling 14,670 episodes. Insiders estimate that TV dramas generate at least half of all TV commercials in China.
A department of TV drama was founded under the State Administration of Radio, Film and Television (SARFT) in 2004 to direct the work of a segment that has become one of the most important items in the minds of the TV-watching public.
"In China, TV dramas are the chief pastime for a majority of people who don't have as rich a nightlife as Westerners do," said Zhang Jizhong, a well-known TV drama producer whose works include China Central Television's (CCTV) Romance of the Three Kingdoms and The Smiling, Proud Wanderer (Xiao'ao Jianghu).
"As a result, most TV shows in China are longer than those in the West, and are broadcast daily instead of weekly as in the US."
Another major difference between Chinese and American TV shows is that the latter are usually divided into seasons, with relatively independent episodes, while the former usually tell linear stories that require watching without skipping of episodes.
These differences have turned away foreign viewers from Chinese TV serials, Zhang said.
In addition, Chinese TV serials often involve complex cultural and historical background, which are unfamiliar to Westerners.
Gao Xixi, director of the just completed 90-episode epic TV drama Three Kingdoms, said American TV companies would hesitate to buy such a lengthy TV series.
Large portions of it would have to be cut - especially those scenes involving information pertaining to Chinese history - to fit Western market tastes, said Gao, who will promote his show at a conference in New York on Dec 18.
In comparison, the TV program doesn't have to be edited much if sold to Japanese audiences, as they are more familiar with the story of the Three Kingdoms.
"Probably no other country makes TV serials on such serious historical issues as China does," said Cheng.
The gravity of these topics is sometimes too much to bear for cross-cultural audiences. A few years ago, a Korean TV play Dae Jang Geum got an overwhelming response in China, creating a fan following for other Korean TV serials.
"Korean TV dramas are successful in China because they don't involve too much historical background, and focus on cosmopolitan values such as love," Zhang said.
"We should learn from Korean TV serials on how to incorporate emotions in our works."
In recent years, American TV shows have turned increasingly popular in the country.
Though not many of these have been broadcast by Chinese TV stations, some TV series such as Prison Break, 24, and Sex and the City have quite a large number of fans through their dissemination via DVDs and the Internet.
For example, even though Prison Break has never been officially released in China, its lead actor Wentworth Miller is so popular here that several Chinese companies have used his image on promotional campaigns.
"American TV shows have established a format that is globally accepted, but Chinese TV serial makers usually have their sights fixed only on the domestic market," said Gao.
Besides, Chinese TV serials are often influenced by official policies and ideological slants.
For example, Gao was asked to tone down the portrayal of gangs in his Shanghai Bund, a remake of the 1980 Hong Kong TV series The Bund, although the story was about gangs in Shanghai in the 1930s.
Gao's plan to shoot a TV series about Hua Mulan, a lady warrior of yore who fought the invading Northern nomads, was also vetoed due to concerns over ethnic harmony.
In 2004, SARFT issued a notice strengthening supervision over the broadcast of crime dramas on TV. It also stipulated that no crime drama be broadcast before 11 pm each day.
Crime dramas, which used to be one of the most popular categories among TV shows, have decreased in number greatly since then.
The regulating department also issued restrictions regarding costume plays and plots involving extramarital affairs in TV dramas.
"Chinese TV serials need to transform from their past role as propaganda tools to compete effectively in the market," said Ding Yaping, director of the Film and Television Research Institute, Chinese National Academy of Arts.
Because of ideological issues, TV dramas about contemporary Chinese society are less popular in the international market compared to costume dramas, although the Chinese government is making more efforts to promote the former, industry insiders said.
The four great works of classical Chinese literature, Romance of Three Kingdoms, Outlaws of the Marsh, Journey to the West and A Dream of Red Mansions, were made into TV serials in the 1980s and 1990s by CCTV and became best-sellers when they were distributed overseas.
However, none of them was aired on mainstream Western TV channels. In comparison, a Japanese TV series based on Journey to the West, titled Monkey, was received well in the UK and Australia, where an English-version of it, produced by the BBC, was aired.
Coincidentally, new TV drama versions of the four classics are being made now. Their producers say international sales will form an important portion of their total revenues this time.
Zhang, the producer of the new version of Journey to the West, which is scheduled for completion in 2011, is hoping that overseas sales would account for 20 to 30 percent of its total income.
Zhang believes that, to be competitive in the international market, Chinese TV serial makers should cooperate more with foreign counterparts to keep themselves updated about the latest in technology and production.
Zhang has invited costume designers and special effects personnel from the US to join the Journey to the West team, to better the quality of the new version.
"Compared to 20 years ago, the quality of production (of Chinese TV shows) has improved a lot, but it is still far behind that of American TV serials," Zhang said. "The US has a whole "industrial chain" supporting TV shows; we are still at the "handicrafts" stage."
SARFT started a "Going Out" project in 2001, which encouraged Chinese radio, film and TV programs to be shown outside the country.
The export of TV serials will also get crucial government support, according to the Outline of The 11th Five-year Plan for National Culture Development, released in 2006.
"SARFT is actively coordinating with related sectors to accelerate the study on the establishment of special funding for the export of products and services of radio, film and TV," Zhu Hong, a spokesperson of SARFT was quoted as saying recently.
Cheng believes that the government's support is essential for the export of Chinese TV serials, but the real improvement will come when these shows adjust to the demands of targeted viewers abroad.
"China is a great producer of TV shows. Among the hundreds of TV serials and thousands of episodes that China produces every year, at least 30 percent should be about international topics and should be able to appeal to the world," she said.
(China Daily 12/11/2009 page7)