A student who was bullied at school sought revenge by poisoning 10 classmates in Kunming, capital of Yunnan province.
On Monday afternoon, a 12-year-old student surnamed Liu from the Yanglin town No 1 Middle School, put rat poison into the thermos bottle in his classmates' dormitory.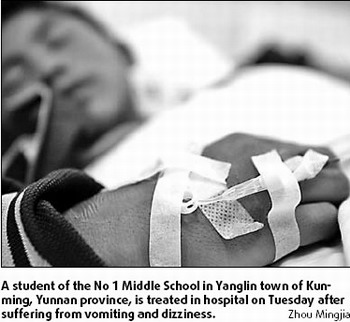 Liu wanted revenge because he was often bullied by his classmates, and he thought "the rat poison would give the bullies diarrhea", a Kunming police investigation found yesterday.
The students were sickened but not seriously hurt.
The poison was purchased on the street on Sunday by another 12-year-old student surnamed Dong, who had also planned to poison bullying classmates. But Liu found the rat poison and grabbed it.
Liu also rubbed rat poison onto his classmates' towels.
When students returned to the dormitory on Monday evening, they poured hot water from the thermos bottle to prepare several cups of instant noodles. The noodles were shared by 11 students, including Liu and Dong.
They immediately showed poisoning symptoms like vomiting and stomachache. They were sent to the hospital by teachers.
Related readings:


 Rat poison kills toddler in kindergarten


 'Poison gas' leak scale disputed


 Man poses as nurse to poison lover's husband

 12 sacked, 3 arrested in poison lake case
"Only one child showed severe symptoms and is now out of danger after being transferred to a downtown hospital in Kunming," said Lu Lifen, a police officer with the Songming county public security department yesterday.
The other 10 children, including Liu, are in stable condition and under observation in the county hospital.
"At such a young age, Liu assumed the rat poison would merely cause diarrhea but never thought it had such high toxicity. So he ate the noodles too," she said.
"Both Liu and Dong, who are just 12 years old, cannot be punished according to law. They will be picked up by their parents after leaving the hospital," Li Yunfeng, a senior official with the Kunming public security bureau's information office, said yesterday.
Juveniles younger than 14 cannot be held criminally responsible under the country's Criminal Law.
Cases of campus violence have not been uncommon in the province.
In 2004, Ma Jiajue, a Yunnan University senior, hacked four of his schoolmates to death inside his dorm room because of a dispute in a card game.
In 2005, Liang Xin, an 18-year-old girl also from the university, was beaten by seven classmates for several hours because she did not allow them to use her mobile phone.
The Yunnan provincial education bureau and middle school officials could not be reached for comment about preventing similar violence.