SHANGHAI: Amid a widening wealth gap between rich and poor, a new survey has found that 96 percent of the public said they feel resentful toward the rich.
The latest survey, released by the Zhejiang Academy of Social Sciences, also shows that 70 percent of 1,159 respondents said they feel "a big gap" between the rich and poor in China now, with more than half of the people saying the gap will become bigger.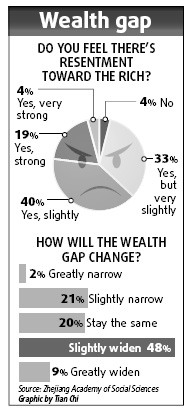 The survey, launched in the first half of the year, was based on questionnaires handed out to 10 social groups including public servants, entrepreneurs and farmers.
"I believe that the wealth gap is a much more serious problem nationwide," said Qiu Liping, a professor of social stratification at Shanghai University.
"Our society is in dire need of a platform for dialogue between the rich and poor," he said. Such a platform, he said, will minimize the resentment against the rich.
"People do not always hate the rich. People hate those who are immorally rich," he said.
But most of time, people do not make that distinction. Cherry Chang, an editor of a luxury magazine in Shanghai, said her car, a red Porsche, has been vandalized three times in the past two weeks.
Her friend's Lamborghini fared no better. "I think there are many people in this city who harbor a deep resentment against the rich," she said.
The wrath aimed at the wealthy has been a hot-button issue recently, and can go past vandalism to include kidnapping and even murder.
Yi Zhao, a civil servant from Guangdong province, admitted that he dislikes the rich.
Related readings:


 'Equal opportunity' to close rural-urban gap


 How can reduce the gap between the rich and poor?


 Mind the gap


 Is that good to have a big salary gap between expats and Chinese?


 US income gap widens as poor take hit in recession
"Most of them collect wealth at the expense of the poor. Take those real-estate manipulators for example. They control the property market aiming for a higher price and a considerable profit," he said.
"On the other hand, I simply can't accept the skyrocketing prices. Isn't it unfair to the majority who are unable to afford an apartment, even if we squeeze together the savings of three generations? "
However, Xiao Xiaowei, a 24-year-old self-employed from Wuhan, capital of Hubei province, said she actually respects the rich, especially billionaires.
"It's true that some of them get rich illegally or at the expense of the poor, but getting rich surely requires some other qualities, such as excellent interpersonal skills. They have the capabilities that others don't have," Xiao said.
Chang also said she worked hard to buy herself an apartment and a car. "If those people have the time to hate us and envy us, why don't they spend the time working, using diligence and intelligence?" asked Chang.
Zhang Qi, a 28-year-old professional in Beijing, said getting rich and making money are not just about working hard.
"I haven't thought much about making a lot of money. Life is hard for me - and I am privileged with a decent job. For those who are less privileged, life must be even harder," Zhang said.