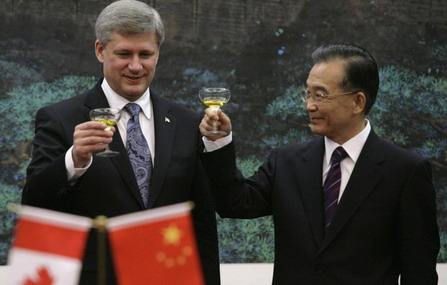 China's Premier Wen Jiabao toasts (R) with Canada's Prime Minister Stephen Harper during a signing ceremony at the Great Hall of the People in Beijing December 3, 2009. [Agencies]
Canadian Prime Minister Stephen Harper made headway Thursday in his attempts to warm up "cool to icy" ties between his country and Beijing.
Harper, who is on an official visit, is the first Canadian prime minister to make such a trip for five years.
Beijing and Ottawa inked four agreements on Thursday that call for greater cooperation in fields including climate change, natural resources, culture and technology.
According to Canada's Canwest news service, the agreement on climate change commits the two governments to share technology and information about energy conservation, energy efficiency, renewable energy and sustainable land management.
The nations also spoke about the prospect of China granting "approved destination status" to Canada, following a long-standing request by Ottawa for the designation that would make it easier to lure tourists from the most populous country.
Related readings:


 Highlights of China-Canada joint statement


 Ties with Canada 'to thaw'


 China lifts ban on pork imports from US, Canada, Mexico
Ottawa has aggressively criticized Beijing for its human rights record and alleged spying. And Harper was not among world leaders at the 2008 Olympics in Beijing.
But Ottawa has recently said "new global realities demand a modernized Canada-China relationship" and played down such issues.
Experts said Ottawa's softer line and apparent attempts to mend broken ties was driven by both commercial and political realities.
During meetings Thursday with Chinese leaders, Harper behaved in a "respectful" way, both Chinese and Canadian media reported.
He told President Hu Jintao it had been his dream since he was "a small boy" to visit China. He also said the Great Wall was "unbelievable" and that he and his wife were eager to return to the country.
The Canadian prime minister, who had once irritated China by openly embracing the Dalai Lama, also promised yesterday to "stick to the One-China policy, respect China's sovereignty and territorial integrity and properly handle discrepancies in a friendly, candid and respectful way", according to a press release issued by the Foreign Ministry.
Chinese leaders signaled that they were aware of Canada's altered stance and welcomed the change.
"Five years is too long a time in China-Canada relations and that's why there were comments in the media that your visit should have taken place earlier," Wen told Harper during their meeting.
"We were reluctant to see Canada alienate us in recent years. That has hampered our trade and personnel exchanges," Wen told Chinese reporters after the talks.
"The key (to healthy bilateral ties) is mutual respect, equality and taking care of each other's core interests I hope the visit can solve the problem of mutual trust," he said.
Harper told reporters last night that he did raise the issue of human rights when he sat down with Chinese leaders.
Jin Canrong, deputy dean of the International Studies School at Renmin University of China, said Harper has in the past spoken harshly about China partly because of domestic political concerns.
"This is kind of opposition for opposition's sake."
Harper said yesterday that the Canadian government wants to hand over Lai Changxing to China.
Harper blamed his country's courts for the hold-up.
Lai is wanted in China for allegedly heading a massive smuggling operation but has been living openly in Canada for a decade.