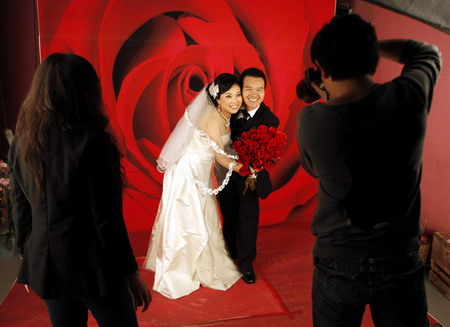 An engaged Chinese couple pose for their wedding photographs at a studio in central Beijing November 27, 2009. [Agencies]
The economy is awash in cash after banks issued an unprecedented flood of loans to help combat the financial crisis. With few investment channels in China, property is alluring.
"Property prices are largely dictated by investors," Zou Linhua, an economist at the Chinese Academy of Social Sciences. "Wedding-related home buying is only a part of the demand."
Related readings:


 Young couple bumps into housing dilemma


 TV hit mirrors housing dilemma among urban youth


 China denies to release rural land to curb housing prices


 Housing value ranking 'insensitive' to public concern


 China's housing prices expect slight dip in Q4
Yet it is an essential part, Xing of CICC argues, so much so that the demographic implications need closer analysis.
In smaller towns, for example, where men outnumber women by a wide margin, families try to help make their sons more attractive by promising larger homes to potential brides.
The government needs to give serious thought to how to cushion a potential fall-off in housing demand at the end of the wedding boom, sometime around 2015, Xing said.
Fuelled By Parents
In the meantime, it is frugal parents, not the young couple and not banks, who often foot much of the bill for new homes. Armed with a lifetime of savings and with just one child, parents are only too willing to lend a hand -- and sometimes twice.
Wang Dajian and Niu Xiaoxia said they recently purchased a second Beijing apartment for their 29-year-old son and his wife after the first one they had bought failed to entice the young couple out of the parents' home.
The newlyweds found the first apartment "inconvenient" for their jobs, their parents said, because it required a 30-minute commute from their offices.
"They should be independent. They should be responsible for their own lives," lamented Niu, who noted that when she and Wang married they had to wait more than two years after marrying before their work unit arranged for a tiny one-room apartment.
"I want to push them out, to make them suffer a little like we had to," Wang said with a wave of determination that quickly melted.
"But the problem is, when we see him suffer, we feel bad. I don't blame them, because all this resulted from us. We are responsible because we spoiled them."