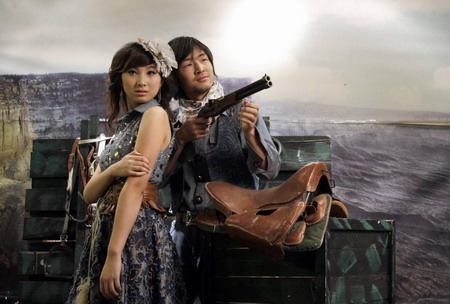 An engaged Chinese couple pose for their wedding photographs dressed in cowboy gear, holding a toy gun and with a rugged 'Wild West' landscape behind them at a studio in central Beijing November 27, 2009. [Agencies]
Big Business
The Xidan Wedding Mall in the heart of Beijing offers three floors of dress makers, jewellery merchants and photo studios.
"A bride usually buys two gowns: a white one in the Western style, used for the procession and vows, and a traditional Chinese one in red for the banquet," said Ying Zi, a saleswoman at Modern Bazaar, a dress shop in the mall.
Related readings:


 Young couple bumps into housing dilemma


 TV hit mirrors housing dilemma among urban youth


 China denies to release rural land to curb housing prices


 Housing value ranking 'insensitive' to public concern


 China's housing prices expect slight dip in Q4
A few years ago, brides often rented their clothes. Ying said almost all of her customers were now buying the dresses, which cost at least 2,000 yuan ($293) each.
Diamonds are also hot. Chen Yin's family began crafting diamond rings at home for a niche market a decade ago. Now they run a shop, Bling Jewellery, selling hundreds a month.
"There are some people who originally bought small diamond rings, but are now looking to upgrade to bigger ones," she said.
And brides have taken to platinum jewellery, because the white metal matches their white gowns. Its place in Chinese weddings has helped double global demand for platinum this year despite a sharp fall in use by the hobbled auto industry, according to precious metals refiner Johnson Matthey.
The choice of white is, in itself, an indication of the social change sweeping over China, where white was traditionally the colour of funerals.
Then there are the wedding photos, shot against elaborate, if fake, backgrounds: a couple in 1920s attire on a French boulevard or in cowboy gear with a rugged Wild West landscape behind them.
The wedding boom has not escaped the government's notice. China Association of Social Workers, a government agency, established the Wedding Industry Committee in 2003 to gather data and set standards.
The number of weddings, about 10 million in 2008, is increasing by 10 percent a year, while spending is rising 20 percent, according to Shi Kanning, the committee chief.
No Crisis
"The global financial crisis hit a lot of industries: exporters, banks, insurance. But not only was the wedding industry not affected, it has had even stronger growth over the past year," Shi said.
This resilience, he said, spilled over to the property market, with newlyweds buying homes when other business dried up. He pointed to surveys by the China Index Research Institute, which show that three-quarters of first-time home buyers are below the age of 35.
But a surge in housing sales -- up 79 percent by value in the year to October -- is clearly about more than just newlyweds.