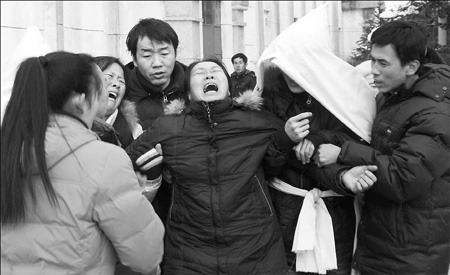 Residents in Qingchuan county, Sichuan province, yesterday rebuild homes hit by last year's May 12 earthquake. [Liu Ren] 
On Saturday, coal miner Jiang Yongwei was looking forward to his 26th birthday, which he would celebrate in a week. His stepfather and ailing mother were proud of him and the hard-earned money that he provided for his impoverished family in this northeastern coal-rich city of Hegang in Heilongjiang province.
But that morning, the young man's life was cut short by an abrupt, negligent mine accident, said to be the country's worst in more than two years. He became a victim, a body, a number - one of the 104 deaths so far confirmed at the Xinxing Coal Mine. Four workers are still missing and possibly dead.
Jiang's funeral, and the funerals of three other victims of the accident, was held yesterday morning in the gray, winter cold in Hegang.
Related readings:


 Management failures blamed for fatal coal mine blast


 Death toll rises to 104 in coal mine blast


 Background information of Hegang coal mine


 Coal mine blast kills 11 in central China
By holding the funeral less than a day after signing the compensation agreement, Xi Guohua, Jiang's mother, was able to receive a one-time payment of 312,100 yuan ($ 45,700) from the mine.
The State-run mine, officially held accountable for the disaster, has promised a payment of at least 250,000 yuan for each family of a deceased miner. The payout is 25 percent more than the standard compensation offered following deaths caused by negligence.
An additional clause in the compensation agreement says families that hold funerals within 24 hours of signing the document will receive an additional 30,000 yuan. Those who do so within 48 hours will get 20,000 yuan and people who wait another 24 hours will receive 10,000 yuan on top of the negotiated compensation.
The money comes as a huge boost for the relatives of the miners, whose average monthly salaries are in the low thousands in this industrial city. Jiang's wages totaled about 2,700 yuan a month.
Zhang Jinguang, the mine's spokesman, refused to say why families are being encouraged to move quickly to bury the dead.
Although China's top work safety official has called the tragedy a negligent accident resulting from poor management and inadequate safety precautions, local authorities are still struggling to defend the mine.
"The rescue work is ongoing. As long as there is hope, we will continue our efforts," Zhang told reporters.
Hegang, which produces more than 21 million tons of coal annually, is heavily reliant on the local subsidiary of the Heilongjiang Longmei Mining Holding Group, which controls the mine.
The Hegang subsidiary contributes to nearly 60 percent of the city's coal output and employs 90,000 people.
As a result of efforts to upgrade the coal sector, which remains the major source of China's energy, thousands of small and often illegally operated collieries have been shut down in recent years. That has reportedly helped reduce the death toll, from almost 6,000 in 2005 to 3,200 last year.
But despite driving several small, often poorly managed, mines out of business, disasters have flared at large State-owned collieries recently.
Staff in the control room of the Xinxing mine received alerts notifying them of a sudden rise in underground gas levels at 1:37 am - 53 minutes before the tragedy, investigations showed.
Although a State Council investigation team pointed to inefficiency in evacuation, mine officials have insisted that its evacuation effort was timely. Nonetheless, the corporation has not explained why more than 100 miners were still underground at the time of the blast.
It has likewise rejected widespread media allegations that all relatives of the victims had been put under close "supervision" by its "work teams". The media earlier claimed none of the relatives could be seen or interviewed.
A number of family members and friends of the dead miners have called on the mine's bosses to provide more details about what happened. Some of them were seen taken inside the mine compound while others were driven away by the plant's security.
The Supreme People's Procuratorate has sent a team to Hegang to investigate any possible abuses of power, government inaction or misconduct, as well as under-the-table deals at the mine that may have compromised safety standards.
"Development is the top priority, but gross domestic product cannot be traded for the lives and blood of employees," Heilongjiang Governor Li Zhanshu had said after the incident.
AFP contributed to the story