Latest update: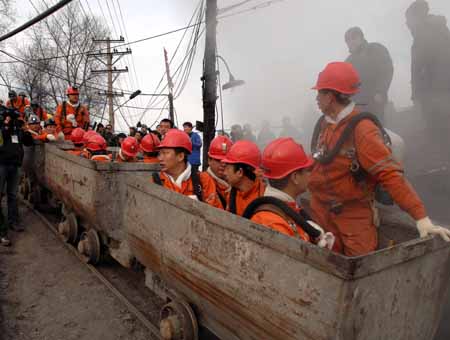 Rescuers get ready to go down into the pit to search for survivors at the site of the accident at the Xinxing Coal Mine in Hegang City, northeast China's Heilongjiang Province, Nov. 22, 2009. [Xinhua] 
More photos
HEGANG, Heilongjiang: The death toll from the deadly coal mine blast in northeast China's Heilongjiang Province has risen to 104, said local authorities early Monday morning.
Related readings:


 Deaths climb to 92 after mine explodes


 42 dead, 66 trapped in coal mine blast

 Background information of Hegang coal mine
Another four are still trapped in the shaft.
The blast happened at around 2:30 a.m. Saturday at the Xinxing Coal Mine under the state-owned Heilongjiang Longmei Mining Holding Group's subsidiary in Hegang City. A total of 528 miners were working underground when the blast happened.
The following is an earlier story:
The death toll from a coal mine explosion in the northeastern city of Hegang, Heilongjiang province, on Saturday jumped to at least 92, with 16 still trapped underground in China's worst mine disaster in almost two years.
More than 500 rescuers are working around the clock in freezing cold weather to locate the 16 workers -- who authorities fear are dead -- at Xinxing Coal Mine, a State-run subsidiary of the Heilongjiang Longmei Mining Holding Group, according to local sources.
The number of deaths more than doubled overnight. It is the latest tragedy to strike the nation's mining industry where hundreds die despite improving safety standards. The mine is the largest State-owned mine with an incident of this scale in years.
The blast took place around 2:30 am on Saturday with 528 miners working underground, littering the ground with shards of shattered glass and twisted pieces of metal. Xinhua News Agency reported that 420 escaped the blast.
Timeline of Rescue:
 Xinhua (22:38)
The Xinxing Coal Mine's General Manger Yue Chaosheng, the Deputy General Manager in charge of production safety Liu Zongtuan, and Chief Engineer Dong Qinkui have been dismissed from their positions following the gas blast that killed at least 42 miners and left 66 still trapped, Xinhua reported.
Xinhua (22:18)
Twenty-nine miners injured in the gas explosion at a coal mine in Heilongjiang are hospitalized to receive treatment. Six of the miners seriously injured are in a stable condition, Xinhua News Agency reported.

More
Local anonymous sources claim that the chances of finding survivors were getting slimmer by the second. Luo Lin, the country's work safety chief, is heading a State Council team to investigate the cause into the disaster.
Vice-Premier Zhang Dejiang visited on Saturday to oversee the rescue. He also urged officials in other regions to learn from the tragedy and step up work-safety measures.
The Supreme People's Procuratorate yesterday also sent a team to Hegang to investigate any possible abuses of power, government inaction or misconduct, as well as under-the-table deals at the mine that may have compromised safety standards.
President Hu Jintao and Premier Wen Jiabao both "made instructions for the rescue work" without further elaboration, according to Xinhua.
Although China Central Television (CCTV) said the explosion resulted from a massive gas buildup, the official cause of the explosion was not available last night.
Huang Yi, deputy chief of the State Administration of Coal Mine Safety and spokesman of the State Administration of Work Safety, told CCTV yesterday that the accident "fully revealed gaps in work safety and inadequacies in gas prevention and control measures".Heilongjiang Governor Li Zhanshu said yesterday he takes major responsibility for the accident.
According to a spokesperson for the mining holding group, the mine's monitoring room received alerts of a sudden, dramatic rise in underground gas levels at 1:37 am on Saturday, 53 minutes prior to the tragedy.
The monitoring room immediately cut off underground power and notified all personnel to evacuate, said Zhang Jinguang, publicity chief of the Hegang subsidiary.
Deaths from mining incidents happen often in China. Although work safety situations in China have improved as of late, mine disasters continue to kill people by the thousands each year. Around 3,200 people were killed in 2008.
A State-run mine in Gujiao, Shanxi province, exploded on Feb 22 and killed 77. But in that incident, none of the mine's alarms sounded and, even as gas indicators measured at dangerous levels, nobody at the control room took action.
Xinxing Coal Mine is located around 400 km east of the provincial capital of Harbin and has an approved annual production capacity of 1.45 million tons.
It has an annual coal output of 12 million tons and a verified coal reserve of 3 billion tons.
The Hegang mine incident has already claimed more lives than any disaster of its nature since December 2007, when 105 miners were killed in the coal-rich Shanxi province.
If the eventual death toll exceeds that number, the Hegang incident will have become China's deadliest mine blast since two collieries were flooded in Xintai, Shandong province, in August 2007, killing 181 miners.
Local authorities say a total of 108 "work teams" had been set up to comfort the families of those who were killed or trapped underground.
The families of each deceased miner are expected to receive at least 250,000 yuan ($36,600), 25 percent more than the standard compensation for fatalities in negligent incidents in China.
In quick order, the mine's director, deputy director and chief engineer were sacked on Saturday.