SINGAPORE: Denmark was not an economy of the 21-member Asia-Pacific Economic Cooperation (APEC), but Danish Prime Minister could not help attending the gathering.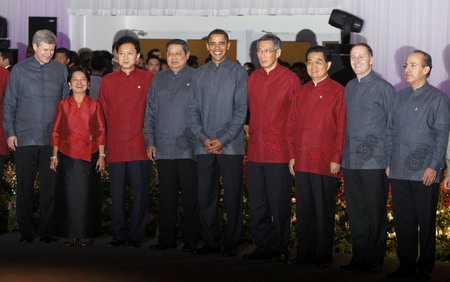 APEC Leaders pose for a family photograph after their dinner at the APEC meeting in Singapore November 14, 2009. Pictured (L-R) are: Canada's Prime Minister Stephen Harper, Philippine President Gloria Macapagal Arroyo, Japan's Prime Minister Yukio Hatoyama, Indonesia's President Susilo Bambang Yudhoyono, US President Barack Obama, Singapore's Prime Minister Lee Hsien Loong, China's President Hu Jintao, New Zealand's Prime Minister John Key and Mexico's President Felipe Calderon. [Agencies]

Lars Lokke Rasmussen flew to Singapore for an "informal breakfast meeting" with 18 leaders of the APEC economies, including Chinese President Hu Jintao, early Sunday morning, before the two-day APEC summit concludes in the afternoon.
In less than a month, Copenhagen, the Danish capital, will host global negotiators to try to hammer out a climate accord that would replace the Kyoto Protocol due to expire in 2012.
Details of the talks at the "breakfast meeting" were not immediately available. But according to a spokesman of China's Ministry of Foreign Affairs, President Hu had emphasized the responsibilities of developed as well as developing countries in coping with climate change.
Special coverage:
17th APEC Leaders' Week
Related readings:


 Hu proposes economy-reviving measures


 Hu: Opposing protectionism helps revive global economy


 Hu makes 4-point proposal to boost world economy


 Hu meets with Lien Chan in Singapore


 Obama, Hu top Forbes listing of most powerful
Hu said he believed the Singapore gathering for exchange of viewpoints on climate change would facilitate governments to make concerted efforts to push for "positive outcomes" at the Copenhagen Conference.
The Chinese president said that the UN Framework Convention on Climate Change (UNFCCC), and its Kyoto Protocol, had laid a legal basis for the international community to address climate change, and that the basic principle of "common but differentiated responsibilities" among developing and developed countries had been widely accepted.
The Bali Roadmap, an action plan agreed at the UN December 2007 climate talks for negotiations aimed at finding a broader agreement capable of expanding or replacing the Kyoto Protocol, has charted the course for the international community to cooperate in tackling climate change, he said.
"All parties should uphold the above principles and demands, fully display their political wills, and translate their political wills into forces to advance the negotiation process, so as to achieve positive results in the full, effective and sustained implementation of the UNFCCC," Hu said.
He stressed that countries should lock in the achievements of the Bali Roadmap, and the developed economies should continue to take the lead in emissions reduction.
Developing countries, supported by the technology transfer and financial support from developed countries, on their part, should also endeavor to adapt to climate challenge and try their best to cut greenhouse gas emissions.
Hu proposed that an effective financing system should be established, to ensure developed countries shoulder responsibility of providing financial aid to developing nations, as well as disseminating environmentally and climatically friendly technologies.
China will continue to take strong measures to contribute its share to the international efforts against climate change, the president said.
He reiterated China's promise to cut carbon dioxide emissions per unit of gross domestic product (GDP) by a "notable margin" by 2020 from the 2005 level.