SINGAPORE: China on Friday vowed to vigorously boost domestic demands and voiced its strong opposition to protectionism, saying both are key to bolstering the fledging global recovery.
"The world economy has shown positive signs of stabilization and recovery," President Hu Jintao told the Asia Pacific Economic Cooperation (APEC) CEO Summit.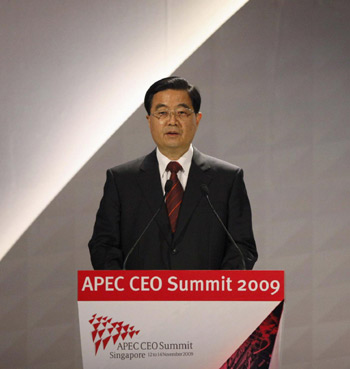 China's President Hu Jintao speaks during the APEC CEO Summit in Singapore November 13, 2009. [Agencies]  
But he cautioned that the economic upturn is not firmly established, with unsustainable patterns of global growth and major deficiencies in the international financial system.
"Our focus in countering the crisis is to expand domestic demand, especially consumer demand," Hu said.
Special coverage:
17th APEC Leaders' Week
Related readings:


 Hu: Opposing protectionism helps revive global economy


 Hu delivers speech at APEC CEO Summit


 Wen: Domestic demand stressed to drive growth


 Obama, Hu top Forbes listing of most powerful


 APEC ministers plot ways to sustain recovery


 China's recovery helps fuel regional resurgence: WB


 China's economic recovery to pick up momentum in 2010
In the face of the crisis, China has adjusted its macroeconomic policies. It has introduced a proactive fiscal policy and a moderately easy monetary policy, and implemented a stimulus package.
"We have been working hard to improve the consumption environment, adjust distribution relations, increase people's ability to spend and foster new areas of high consumer demand," he said.
The country has implemented measures to foster a new pattern of economic growth driven by consumption, investment and export, he said.
The measures are conducive to the steady and relatively fast growth of the Chinese economy and has also helped "the international effort to cushion the impact of the financial crisis and restore world economic growth", the president said.
"China will further boost domestic demand, vigorously expand the domestic market, and promote balanced growth of domestic and external demand," he said.
A priority is to improve the people's well-being by addressing issues such as medical care, housing, and old-age support, which have in the past constrained domestic consumption.
The president voiced China's strong opposition to the persisting protectionism, which he claimed is detrimental to global economic revival.
"Protectionism will not help any country move out of the crisis. It can only pose a threat to the fragile momentum of economic recovery," he said.
The president stressed that only with trade and investment liberalization and facilitation can the world achieve economic recovery and growth.