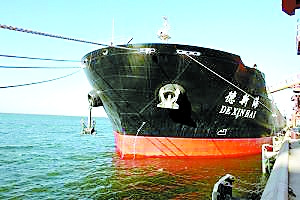 File photo of bulk carrier De Xin Hai[Guangzhou Daily]
BRUSSELS: The name of the Chinese bulk carrier hijacked in the Indian Ocean earlier on Monday has been identified as DE XIN HAI, a spokesperson of the EU naval force said, adding there are 25 Chinese aboard the ship.
John Harbour said that the EU NAVFOR Maritime Patrol Aircraft ( MPA) has located the ship and has seen pirates on board, as well as some small boats (skiffs) that are used in pirate attacks.
The ship was hijacked in the Indian Ocean, 350 nautical miles northeast of the Seychelles and 700 nautical miles off the east coast of Somalia, the EU naval force said in a statement from its headquarters in Britain.
Related readings:


 Chinese bulk carrier hijacked in Indian Ocean: EU


 Hijacked fishing boat remains in Somali port


 Chinese navy rescues tanker hijacked by pirates


 Taipei working to rescue vessel hijacked by pirates


 Somali pirates hijack a Taiwan vessel
"On indication of an attack, an EU NAVFOR Maritime Patrol Aircraft, operating from the Seychelles, was launched to investigate the incident," said the statement, adding "the MPA has located the ship and has reported that there are 4 pirates visible and 2 skiffs (small pirate craft) being towed by the ship."
The bulk carrier was not registered with the Maritime Security Center Horn of Africa.
Counting these 25 new hostages from the bulk carrier, the total number of hostages held by pirates at the Somali Coastline has reached 146, the EU naval force said.
China's Ministry of Transport said on Monday that relevant governmental agencies were making efforts for the rescue of the bulk carrier.
Qingdao Ocean Shipping Co., Ltd., to which the cargo vessel belongs, reported the incident to the China Maritime Search and Rescue Center at 3:50 p.m. Beijing time.
According to the Chinese ship owners' association, the ship weighs 40,892 tonnes and stretches 225 meters in length. It is carrying coal on board and was heading to India from South Africa when it was hijacked.
Piracy has been rampant off the Somali coast in recent years, prompting a dozen countries including China to send naval fleets to the Gulf of Aden region on escort missions.