Maturing Market
At its peak, the Chinese contemporary art market was seen by some to be highly manipulated and speculative.
Auction houses were accused of collusion with artists to inflate prices, critics and curators blamed for hyping up artists reputations for hard cash, and artists churned out works straight for auction, production-style with an army of assistants, rather than going through the traditional primary market of art galleries first.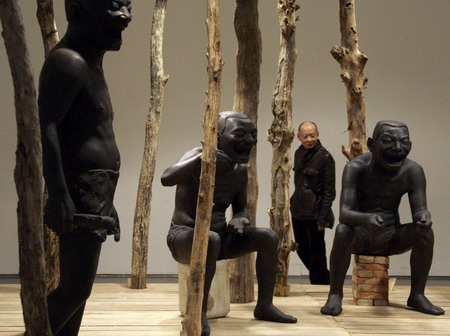 Chinese artist Yue Minjun walks near one of his installations on display at the Today Art Museum in central Beijing in this March 26, 2009 file photo. [Agencies]
"In a Chinese context, the phenomenon of auctions in the art market is a very new thing," said Ingrid Dudek, a contemporary Chinese art specialist with Christie's.
"A lot of the results were driven by private collectors, indicating not necessarily speculation, but of enormous demand ... maybe that did make the correction hurt a little bit more too because you didn't have a dealer network that was there."
Now though, galleries and dealers seem to be making a comeback, with artists seeing the worth of being patiently backed and promoted to ensure reputations and valuations are less vulnerable to market volatilities.
"Some other galleries think going to auction is a test of the market value (of an artist) so they can make faster money. But we try to do the opposite," said Federico Keller of Hong Kong's Connoisseur Contemporary gallery which specializes in Asian and younger Chinese artists, many born in the 1980's.
"We just basically blind ourselves, without looking at the outside market," said Sappho Ma, who also runs the Connoisseur group of galleries. "For us things are about the long term, we try not to be too short-sighted. It's too easy to speculate on artwork (but) this isn't challenging enough."