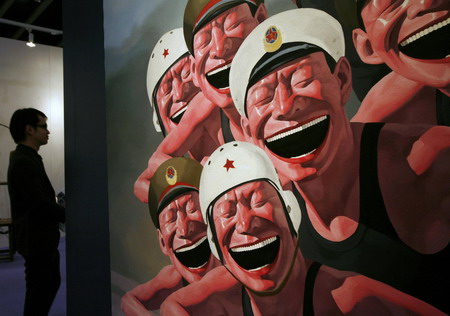 A Sotheby's representative walks past a contemporary Chinese painting titled "Hats Series - Armed Foces" by Yue Minjun at the auction house preview ahead of its Spring Sales in Hong Kong in this April 2, 2009 file photo. [Agencies]
Sotheby's and Christie's, which both pared back their sales of Chinese contemporary art in Hong Kong, have struggled to consign outstanding works, with sellers still wary of fragile sentiment.
At Sotheby's autumn sales, bidding was mixed for contemporary art with Zhang Xiaogang's "Comrade" one of few pieces testing the one million dollar mark.
Without an across-the-board recovery in China's economy and a return to the days of huge wealth creation, Li said she doesn't see a comeback in Chinese contemporary art prices anytime soon.
"Right now, the market is still consolidating," said Tim Lin, a veteran Taiwanese gallery owner at the recent Sotheby's autumn sales in Hong Kong that are considered a barometer of the market.
"The market will go up, but you can't just focus on the short term. See it like a flower, if it blooms too quickly, it will wither quickly. You need to look at the long term."
Auctioneers and dealers say collectors have become more selective since the crash, spurning lesser works while seeking value in younger artists beyond China in Asia and in the West.
"Through this consolidation, there will be better discernment of good artists and good works and their inherent value" said Li of the Poly Group. "The true connoisseurs of Chinese contemporary art, the collectors are left ... and they will be able to pay reasonable money for reasonable things."
Misung Shim, the head of Seoul Auction, which sold a large work of British artist Damien Hirst in Hong Kong this month for $2.2 million, an auction record for the artist in Asia, sees growing opportunities beyond China's art scene.
"We are trying to open the Western art market in Hong Kong rather than the Chinese paintings market," she said.
"Antiques Fashionable Again"
While plunging prices of avant-garde art worldwide represents big potential upside, major art investors such as Philip Hoffman of the Fine Art Fund in London are putting their money more in conservative, safer bets, with recent Asian sales in New York and Hong Kong showing strong demand and prices for traditional categories of Chinese art, including classic inkbrush paintings, imperial scholars' objects, and Ming and Qing dynasty ceramics.
"We've allocated more to porcelain and ancient art, but we've allocated very little to Chinese contemporary," Hoffman said.
"I've been amazed to see how the recession has not been affecting the very best (traditional) Chinese art."
Echoing this view, Andy Hei, the head of the Hong Kong International Art and Antiques Fair, said: "Antiques turn out to be fashionable again".
"We're seeing more old, solid money coming back again to buy ... instead of the new, soft money of the past 10 years."