A welcome worthy of a world leader that was given to a 4-million-yuan ($588,000) dog has raised the hackles of critics.
The Tibetan mastiff, or Zang'ao in Chinese, arrived in his new masters' hometown of Xi'an, Shaanxi province, by air on Wednesday after he was bought for the colossal sum.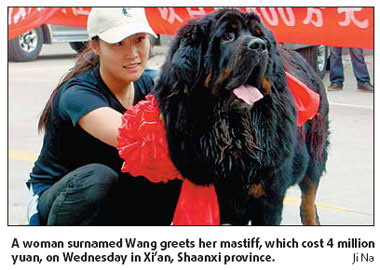 After his safe landing, a motorcade comprising 30 Mercedes-Benz vehicles escorted the canine to his new digs.
Some questioned the show of wealth.
"I don't care how they spend their money and treat their dog," said Wang Jing, 30, who works at a logistics firm in Beijing. "But I want to know why they are so rich while some are so poor."
The year-old mastiff comes from a line of dogs that originated in Yushu, Qinghai province, in the northwest.
Around the dog's neck, resting on his long black coat, was a large red silk flower, an ancient tradition more often associated with the welcome of a hero or groom.
The large Tibetan dogs can fetch anywhere between 10,000 and 10 million yuan.
People in Xi'an have been split on what they think about the dog. Some have said they despise the dog owners' extravagance, while others have said they respect the owners' right to spend their money however they like.
Rapid economic growth has created an increasing number of millionaires in China. Research by the Hurun Report, which tracks China's wealthy, said in April that 825,000 people had a personal wealth in excess of 10 million yuan ($1.5 million) - some six people in every 10,000.
The research said most of the nation's rich reported that the financial crisis had not impacted their lifestyle.
Xia Xueluan, a sociologist from Peking University, said such extravagance was likely to heighten tension between rich and poor.
"It is fine to buy a dog at 4 million yuan, as long as one can afford it with one's own money," he said. "But it is not necessary to greet a dog with 30 luxury cars. It is a demonstration and a challenge to the poor."
The Tibetan mastiff, which is owned by a woman surnamed Wang, has a shorter nose and legs, thicker hair, and is much more rare than other types of mastiff. Experts estimate there are fewer than 100 of such pure-bred dogs in the country.
"The 4-million price means this dog is at the medium to high end of the breed," said Ding Wumin, who owns a business selling Tibetan mastiffs in Beijing.
The dog's other owner, surnamed Cai, said he was a huge fan of the breed. "The dogs are very loyal to their masters, they are dependable watchdogs and holy animals," Cai said.
When asked about the reception for the dog, he laughed and said: "Many of our friends adore mastiffs too. They volunteered to drive their cars to the airport to welcome the dog."
The dog will live in an air-conditioned room and eat beef and chicken and drink mineral water.
The obsession among rich Chinese people for the Tibetan mastiff flared in recent years and has many high-profile converts.