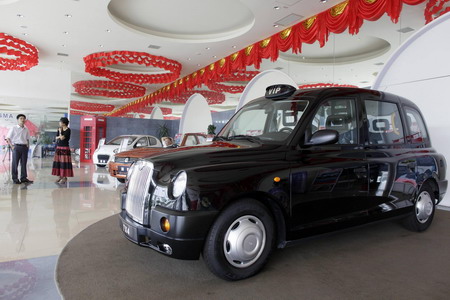 A Geely TX4 car is seen at a Geely Automobile dealership in Shanghai June 16, 2009. [Agencies]
SHANGHAI: Geely Group, one of China's main independent automakers, is considering bidding for Ford Motor Co.'s Volvo Cars unit in alliance with an unnamed investment partner, a company spokesman confirmed Wednesday.
Geely, based in the eastern city of Hangzhou, is among several Chinese automakers that reportedly have shown interest in the Swedish automaker, though company officials had earlier denied such reports.
Related readings:


 As Geely eyes Volvo, sales surge in locally made model


 Geely to buy Volvo from Ford

 Going global: Geely's grab for Volvo


 Geely's Volvo bid not 'worth it'


 Geely denies rumors that it will buy Volvo
Gui Shengyue, chief executive of Geely Automobile Holdings, the automaker's Hong Kong-listed entity, told reporters Tuesday that Geely may team up with a state-owned Chinese investment company to make a bid for Volvo.
Weng Xiaodong, director of Geely's board of directors office, confirmed the reports in a phone interview.
Speaking at a briefing in Hong Kong on Geely's first-half earnings report, Gui said Geely's parent company, rather than its listed unit, may bid for Volvo.
"Geely is an ambitious company and given current global changes, we really cannot miss out on this move," the financial magazine Caijing quoted Gui as saying.
Since more than 90 percent of Geely's capital is tied up in its listed company, the parent company lacks the wherewithal to manage the acquisition by itself, Gui said. But the company would join with either a government entity or some other institutional investor, Caijing quoted him as saying.
Gui did not say how much Geely might pay for Volvo.
Earlier reports had named state-owned Beijing Automotive Industry Holding as a potential bidder for Volvo.