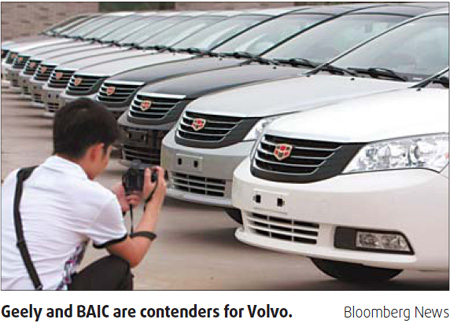 Geely Holdings Group's rumored bid to acquire Ford's luxury brand Volvo, analysts said yesterday, would not be in the best interests of the Chinese automaker.
"I am not optimistic about Geely's chances for Volvo. Is a small Chinese company capable of paying such a big sum for Volvo?" said Zhong Shi, an independent auto analyst based in Beijing.
Last year, Ford put a price tag of $6 billion for Volvo. Although the industry downturn has shrunk Volvo's value, analysts estimated the deal would still be worth between $1 billion and $1.5 billion at present.
Since Ford expressed its intention to sell Volvo's assets and brand worldwide earlier this April, a number of Chinese automakers, including Geely, Chang'an, Chery, Dongfeng, Beijing Automotive Industry Holding Corp (BAIC) and Guangzhou Auto, have been likely bidders.
"Since Ford is passing through a hard time, it won't sell Volvo at a relatively low price," said Zhong. "It's not worth it for Geely (which is on a high-speed development track in the domestic market) to pay billions of dollars for an ailing foreign auto brand."
Geely's total assets were at just over 14 billion yuan. It earned a profit of 1 billion yuan last year. Geely's Chairman Li Shufu admitted earlier this year that the company had about 10 billion yuan in debt.
"Although it will be a shortcut for Geely to foray into Western markets through the acquisition, the Chinese company still faces a series of big challenges," said Jia Xinguang, an auto analyst.
"Geely has to think over the possible troubles and bottlenecks in management, localization, employment and technology. Is it capable of solving all the questions?" Jia asked.
"Even Ford, the century-old US auto giant, could not manage Volvo profitably," added Zhong.
Meanwhile, a Beijing-based daily newspaper reported yesterday that Geely was considering purchasing land in the capital for a possible domestic manufacturing base for the Volvo.
"It may be a rumor again," said an auto analyst who declined to be named. "As BAIC is also a possible bidder for Volvo, the municipal government would not welcome a rival for the Beijing automaker. More important, can Geely swallow Volvo? It's a kind of Mission Impossible for Geely."
Related readings:


 Geely denies rumors that it will buy Volvo 


 Beijing Auto may challenge Geely for Volvo 


 Geely says no plans to buy Ford's Volvo car unit 


 Volvo to recall faulty sedans in China
Fu Yuwu, secretary-general of the Society of Automotive Engineers, told China Daily earlier that Chinese automakers should focus on acquiring comparatively smaller foreign enterprises.
In March, Geely paid $56 million to purchase the Australian automatic transmission supplier Drivetrain Systems International (DSI), to boost its capability in automobile parts technologies.
"Geely did not pay very much for DSI. And it obtained the core technology of the transmissions supplier - a technology that's needed in China's auto industry - through this smart deal," Fu said.
"It's easier for Chinese automakers to deal with a low-profile foreign company."