Tim Hilbert may have been the first foreigner holed up in one of China's famous "nail houses" -- buildings occupied by stubborn tenants who refuse to leave despite the demolition of structures around them.
But he told China Daily that he does not want to be tagged a "troublemaker".
"I am not proud to be a 'nail household'. I just want to get justice and be normal," Hilbert said.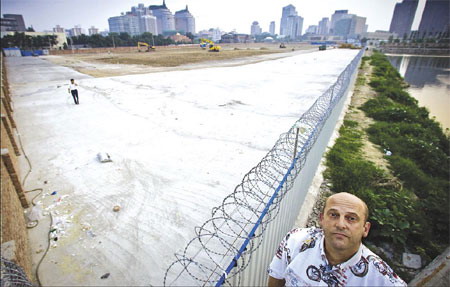 Tim Hilbert stands on Tuesday near the demolished site where his restaurant, Tim's Texas Roadhouse, once stood. [Photo by Jonah Kessel/China Daily]
Last Thursday morning Hilbert went to collect some belongings, including a few pots and pans and an old Phillips 66 gasoline sign, on a final visit to his Beijing restaurant.
Less than 24 hours later, Tim's Texas Roadhouse, the last business left standing in what was once a dusty neighborhood in northeastern Beijing called Super Bar Street, was demolished, opening the way for a massive new development project.
The restaurant's destruction marks at least the symbolic end of what has been a four-month standoff between Hilbert, his landlord and a local court over compensation Hilbert says he is entitled to receive.
Foreign and local media soon started following Hilbert's fight, labeling him as the first foreigner nail household in Beijing.
"I am not excited to become famous over this matter," Hilbert told China Daily. "I just want to get my money back."
The ordeal started on May 12 when Hilbert and neighborhood tenants were informed of the impending relocation. The lights and water would be shut off in early June, they were told, and bulldozing would start shortly thereafter.
Tenants were also advised to arrange compensation meetings with their landlords, said Hilbert, a Texan who moved to China in 2003.
Related readings:


 The demolition of "nail house"


 'Nail house' owner receives millions of yuan in compensation


 'Nail house' demolished in Guangzhou


 'Nail house' episode a fight against plunder
For Hilbert, no meeting would take place. Instead, the Texan said he received a document from his landlord, a company called Seven Colors, notifying him he would receive one month free rent and his security deposit would be returned.
For someone who had invested nearly $650,000 in his business since opening it in 2007, this was something he just couldn't swallow. And so Hilbert decided to put up a fight.
He hired a Chinese lawyer and a team of security guards to protect his restaurant to fend off wrecking crews.
At one point, Hilbert's landlord offered to pay him about 360 yuan ($52) a square meter. "That would have been less than 10 percent of what I invested," said Hilbert.
Lengthy legal process
What ensued would be a hot summer full of endless trips to government offices, arbitration centers and courtrooms followed by more trips to meet with local officials and lawyers followed by letters sent to Beijing authorities.
He also called the US Embassy in China for help. But embassy staff said his case is a commercial dispute with his landlord, and they will not intervene.