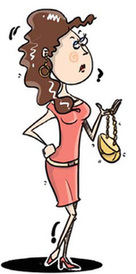 "I had just graduated from college. How could I meet those standards in just a few years? I think they implied that I was unqualified to be their daughter's boyfriend," he says.
Since phoenix men are usually only children, too, there is sometimes the perception that they have obligations to their rural families. Another of Lin's girlfriends turned him down because of this.
Civil servant Zhou Yi says it is natural for urban parents to be irritated by their rural in-laws and worry about their daughter having to look after them in their old age.
Lin's relationship with a third city girl was spoiled by her spending habits, he says.
Related readings:


 Marriage's third wheel


 Widows protest marriage incentive

 Mom posts daughter's ad for marriage in colleges


 Just love doesn't keep a marriage going
"She would spend two or three month traveling around every year. It is OK for her since she is from a well-off family. Her parents totally support her But I grew up poor and I had to take several odd jobs to pay for my college," he says.
Tu Xin is among those city girls who shun phoenix men when looking for a husband.
"One of my friends dated a phoenix man. They looked all right at first, but then she found her boyfriend was unhappy to see her with male friends and wanted to control her social life. So they broke up," she says.
She believes that a man from the city would not be so immature. "I don't mean to generalize, but there are just too many ideological contradictions between phoenix men and peacock women."
Chen Youhong, however, says people should not exaggerate the differences.
"It is a good idea for phoenix men and peacock women to reach some agreements when they marry. For instance, how to deal with their earnings, visits by relatives, the housework and caring for both parents, among others," she says.
She also points out that both sets of parents should show respect for each other and let their children resolve their differences.