Office worker Lin Xianhui is happily married to a woman who, like him, comes from the countryside but now lives in Shenzhen, Guangdong province. But he feels sorry for one of his college friends, who is having marital problems with a woman born in the city.
His depressed friend is being counseled because of his failing marriage, what many people call "phoenix man marrying a peacock woman".
The term "phoenix man" comes from an old saying that "a phoenix soars out of a chicken coop" and refers to men who grow up in the countryside, make it to university and land good jobs in the city.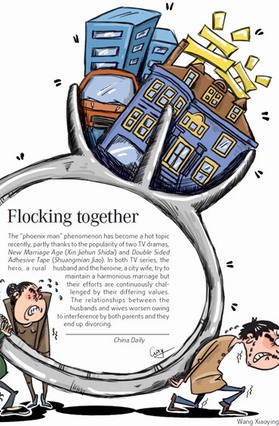 "Peacock women" are born and bred in the city.
The idea of a phoenix marrying a peacock reminds many Chinese of the fairytale "niu lang zhi nu", or the "cowherd and weaving girl", which is the basis for Qixi Festival, or Chinese Valentines' Day, which falls today.
The story follows an orphaned cowboy who falls in love with a beautiful weaver, who is also the youngest daughter of the Empress of Heaven. They secretly marry but the angry empress separates the couple by drawing a line between them, which becomes the Milky Way. The couple can only get together on the seventh day of the seventh month on the lunar calendar, hence Qixi Festival.
Today, there is also a "Milky Way" separating couples from different cultural backgrounds, quite different from the way things used to be.
"There were very few college students from the countryside around us," says Zhou Yi, 58, a retired civil servant and also mother of an unmarried girl.
"First, it was difficult to enter the universities, even for urbanites. And the common way for a rural boy to change his destiny was to join the army. When he retired, he might land a job in the big city."
She adds that since there were not many college graduates available, the perfect husband-to-be at that time was a factory worker, with a stable job and salary.
Related readings:


 Marriage's third wheel


 Widows protest marriage incentive

 Mom posts daughter's ad for marriage in colleges


 Just love doesn't keep a marriage going
Chen Youhong, a relationship counselor from a Beijing-based matchmaking website, attributes the rising number of phoenix-peacock marriages to the expansion of university enrollment and migration of the population to urban centers.
"More rural lads are able to receive higher education and get a good job in the cities and become successful," Chen says. "Coming from a lower class, they have to work even harder than their urban peers. They are commonly recognized as being industrious and positive. These good personality traits sound quite appealing to city girls, who are mostly from the only child generation and may lack of some of those qualities."
Lin Xianhui dated several city girls before marrying his wife. The parents of his first girlfriend said to him their daughter's future husband should have a decent apartment, a car and savings of at least 100,000 yuan ($14,640).