* From 30,000 to 60,000 children are reported as missing every year.
Migrant workers are getting free classes warning them about the dangers of child abduction and human trafficking, said an official with the Ministry of Public Security.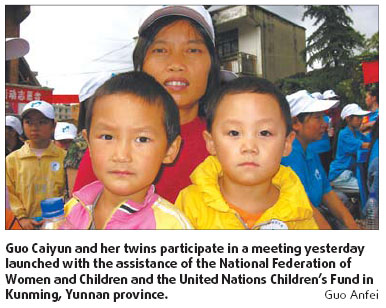 In an exclusive interview with China Daily, Yang Dong, deputy chief of the criminal investigation department, revealed that free classes on protecting children would be offered to migrant workers.
"Only a few missing persons cases would turn in to trafficking cases if we could get more cooperation from the community and if migrant families could provide more information to help trace the children before they are too far away," Yang said.
From 30,000 to 60,000 children are reported as missing every year, but it is hard to estimate how many trafficking cases that includes, he said.
The pilot project, launched yesterday with the assistance of the National Federation of Women and Children (NFWC) and the United Nations Children's Fund(UNICEF), will be conducted in the villages of Kunming, Yunnan province and Dongguan, Guangdong province.
Related readings:


 Workshop targets human trafficking


 Police officer vows to strike against human trafficking


 End child abduction


 China starts crackdown on human trafficking


 New face of human trafficking busted
Landlords and factory owners have been enlisted to inform workers about the classes, because transient families are typically hard to reach.
The classes are part of a national crackdown on human trafficking launched in April, and if successful, they will be rolled out across the country.
"I might have lost my 4-year-old twins if I decided to work full time," Guo Caiyun, a 35-year-old housewife who moved to Kunming of Yunnan province months ago, told China Daily yesterday.
"I want to earn more money to support my husband to finish his postgraduate study in Yunnan University, but I changed my mind after participating in the community lessons," she said.
Guo is among the increasing number of migrants in the country whose children face a greater risk of abduction.
"Isolated living conditions in big cities cause urban people not to care about the floating population of migrants living in neighboring houses people do nothing even if they have doubts about strangers who talk with neighbors' children," said Guo Ye, the chief of the division of complaints and appeals under the NFWC.
"In rural areas the situation gets worse, as people don't always cooperate with police," he said.
Lei Meihua, a senior official with the provincial department of NFWC in Guangdong, told China Daily more than 60 percent of the population in Dongguan are migrant workers, and most work for local factories.
"That's why we need to encourage local entrepreneurs to join in our program," she said.
Bi Yonghong, a 39-year-old landlord in Shageng village of Kunming, told China Daily yesterday she promised to cooperate with the program.
"A missing child is a tragedy for any family, so I have the social responsibility to do a favor for my tenants if they are unaware about children's safety," she said.
To combat child trafficking, the Ministry of Public Security also set up a DNA database to link all the country's 236 DNA laboratories so they can share information.
The database includes DNA of missing children, given by their parents, and samples will be taken from children suspected of having been abducted or vagrant children with an unclear history.
"The national DNA database is particularly helpful for the big migrant population," lawyer Zhang Zhiwei, a volunteer with grassroots NGO Baby Come Home, told China Daily.