SHANGHAI: The growing popularity of cosmetic surgery is proving to be a huge headache for immigration officials.
And the challenge of processing people who look nothing like their passport photos reached new heights on Sunday when 23 Chinese women returned to Shanghai together after visiting South Korea, looking completely different from the way they looked when they left Hongqiao Airport.
The travelers had bigger eyes, higher noses and slimmer chins than the women in the photographs.
"After they took off their huge hats and big sunglasses following our request, we saw them looking differently, with bandages and stitches here and there," said Chen Tao, an airport officer.
"We had to compare their uncorrected parts with their photos very carefully with our eyes and machines," he said.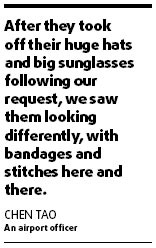 While it normally takes about 45 seconds to clear a single passenger, the process on Sunday took several minutes per person, he said.
"They told the officers that they are friends and that they had gone to South Korea together to have cosmetic surgery," he said.
Some of the women had previously been to South Korea to check out clinics before they flew to Seoul together on July 28, Chen said.
A woman surnamed Huang said that she had an operation on Friday to improve her nose and was pleased with the results, leaving with plans to return for more work.
"We have seen travelers like that once in a while but never in such a large group," said Chen, who added that most of the people returning to China after having facelifts overseas were women.
Yang Xiajia, who is a customs officer at Pudong International Airport, said: "It is becoming more common to see such travelers."
Related readings:


 Cosmetic surgery popular among teens


 Victim of cosmetic surgery bungle seeks damages


 Cosmetic surgery for job hunting


 'Rose Fund' helps women pay for cosmetic surgery
Most are Chinese, returning from South Korea, a country well known for its cosmetic surgery.
In Gongbei, a port in Guangzhou, customs officers encountered more than 150 travelers last year who did not look like their passport photos.
The 23 women who passed through Hongqiao airport were aged between 36 and 54 and were from south Jiangsu province.
Chen Tao said one woman in the group joked that going under the knife was the best way to ensure her husband was not tempted into having an affair.
"After they passed the identification, we asked them all to renew their passports immediately," Chen said.
Liu Chunlong, general manager of Shanghai Art Cosmetic and Esthetic Surgery, said his clinic had seen a rapid growth in the number of customers.
"Some of them have the surgery because of employment pressure and some because of marriage pressure," Liu said. "Many of them come more than once."
He added: "People are more tolerant of cosmetic surgery."
Because of the growing interest in appearance in China, cosmetic surgery is becoming more and more common and many cosmetic surgeons, from countries including South Korea, have relocated to China to make the most of the demand.