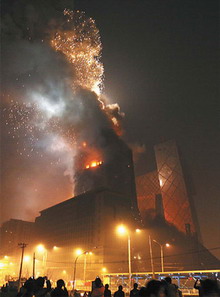 This February 9 file photo shows the Mandarin Oriental Hotel in blaze in Beijing. [Agencies] 
BEIJING: About 30 residents took to the street in eastern Beijing Tuesday morning, demanding compensation for damages to their property during a blaze that seized a building at CCTV's new site early this year.
The anguished residents from about 30 households near the landmark new tower of China Central Television gathered at around 8:35 a.m., putting up posters demanding compensation from the CCTV and protesting against "forced relocation".
Police officers were seen at the site to appease the protestors and listen to their complaints.
Related readings:


 Three more employees arrested over CCTV fire


 12 arrested over lethal CCTV tower blaze


 CCTV fire probed by prosecutor handling dereliction of duty


 CCTV site manager questioned about fire


 CCTV apologizes for great loss caused by lethal blaze
The residents complained of damages to their property in the February 9 fire that engulfed the complex housing some CCTV facilities as well as the unopened Mandarin Oriental Hotel near the futuristic tower of the state broadcaster.
The fire was caused by a powerful fireworks show put on by CCTV.
The burnt building and CCTV's main tower were both designed by Rem Koolhaas's Rotterdam-based Office for Metropolitan Architecture.