BEIJING -- China Central Television (CCTV) on Tuesday apologized for a massive fire that engulfed part of its new headquarters in the eastern central business district of the capital.
The fire broke out on Monday evening, and one firefighter was killed tackling the blaze and seven other people were injured.
Related video: CCTV hotel fire caused by fireworks: official
In a statement on its website www.cctv.com, the broadcaster said it "feels sorrowful for the great loss that the fire inflicted on national assets. CCTV sincerely apologizes for the traffic congestion and inconvenience that affect residents nearby."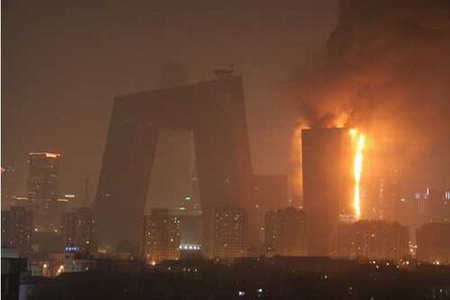 The north wing building of the new CCTV tower is on fire, which is still spreading, in downtown Beijing Monday February 9, 2009. Police have conducted traffic control around the scene. [people.com]  
"CCTV will do everything possible to cooperate with relevant departments in dealing with aftermath of the fire," the statement said.
Beijing Fire Control Bureau has confirmed that a senior official of the office of the CCTV new headquarters construction project hired people, without any reference to superiors, to illegally set off fireworks, which caused the fire, according to the statement.
Related readings:


 Fireworks caused CCTV hotel fire


 Official: CCTV itself responsible for Monday's massive fire


 CCTV hotel fire caused by fireworks: official


 Fire fighter dead in CCTV hotel fire, 6 others in hospital


 China Focus: Firecrackers blamed for hotel fire near Beijing's new CCTV headquarters, seven injured
CCTV hired staff from a fireworks company to ignite several hundred large festive firecrackers in an open space outside one of its nearly-completed buildings, said Luo Yuan, spokesman and deputy chief of Beijing Fire Control Bureau.
Four camcorders recorded the fireworks display and the entire ignition process. The people who ignited the fireworks are being questioned by police and remains of fireworks have been seized.
The 30-storey building, about 200 meters from the iconic CCTV main tower, houses the luxury Mandarin Oriental Hotel, a television studio and an electronic data processing center.