* The local public's distrust of government was among the top reasons why villagers resorted to rallies.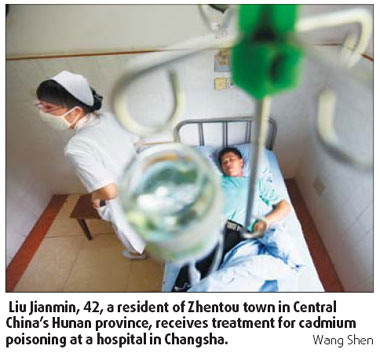 The deputy head of a town in Hunan province -- where cadmium pollution has sickened at least 509 people - has been charged with bribery, authorities said yesterday.
The pollution scandal made national headlines following a protest last week by around 1,000 villagers who demanded health check-ups, medical treatment and compensation.
It also led to the chief and a deputy director of the environmental bureau of Liuyang, a county-level city under Hunan's capital of Changsha, losing their jobs.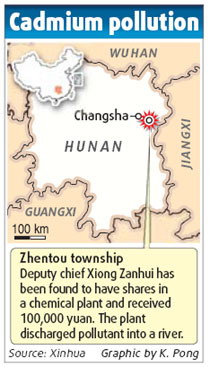 Xiong Zanhui, deputy chief of Zhentou, is accused of receiving 100,000 yuan ($14,639) from a chemical plant that discharged the dangerous metal pollutant into a local river, said Wu Yingzi, who is head of the information office of Changsha, in which Zhentou is located.
Villagers of the town with a population of 56,000 held several protests in July, saying pollution was causing health problems in their community. One of them, Huang Ying, said both her father and husband had fallen ill.
"You can't see anything wrong by appearance, but they just feel too fatigued to do any farm work," she said.
Exposure to large amounts of cadmium can cause failure of the central nervous system and lungs, severe brain damage and even death.
Environmental experts determined that soil within 500 m of the Changsha Xianghe Chemical Plant was polluted by cadmium and the pollution was caused by discharges of sewage, waste residue and dust from the plant, said Jiang Guoping, vice mayor of Zhentou's superior city of Liuyang, according to the Xinhua News Agency.
Since last Friday, the government has offered free health checkups to 2,888 villagers living within 1,200 m of the plant. A urinalysis of 509 villagers showed high concentrations of cadmium. Nearly half of them are now receiving treatment.
The plant began operating in 2003 and primarily produced zinc sulfate, an ingredient in fodder.
Since 2007 villagers have petitioned the government to investigate the plant. But local authorities have failed to do so.
In a response to the petitions this March, the Liuyang environmental protection bureau refused to acknowledge that cadmium pollution existed in Zhentou.
Related readings:


 Protests help clear the air


Three officials punished over cadmium pollution


 Cadmium pollution sickens 509 in C China


 Govt taken to court over pollution


 Protest over plant pollution escalates in C China                 


 Villagers protest chemical plant in C. China
In May and June, two villagers who lived near the plant died. Health officials found high levels of cadmium in their bodies.
By then, the plant had already been ordered to close. But villagers, frustrated by the government's previous inaction, began to block the streets.
Changsha Party chief Chen Run'er met with demonstrators on Saturday, two days after their latest protest. That protest was triggered by the detention of six villagers after a previous demonstration.
The local public's distrust of government was among the top reasons why villagers resorted to rallies, www.changsha.cn, Hunan's leading online portal, quoted an internal Liuyang government circular as saying.
"They need to find an outlet to express their mental stress that had been piling up for a long time," the circular said.