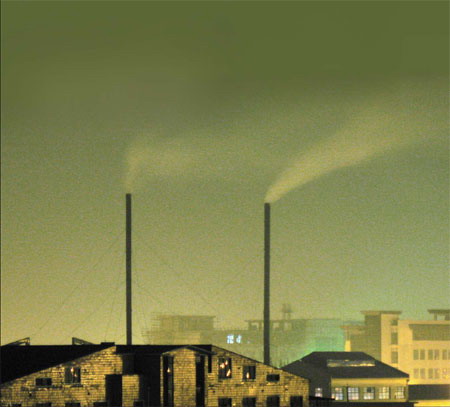 The smokey night sky over a chemical factory in Minhang district of Shanghai. [China Daily/Zhang Bo]

Guo Linsheng's home is less than 20 km from Shanghai's opulent Pudong district but his life is a world away from its gleaming towers, glitzy restaurants and crowded shopping malls.
For the many bankers, business leaders and tourists, the vibrant financial area is an extravagant playground. For him, it is a battleground.
For more than two decades, Guo, 74, and his neighbors have fought to rid their once beautiful Xixin village of the pollution caused by the belching chemical plants nearby.
Related readings:


 Cadmium pollution sickens 509 in C China


 Officials suspended after protests over pollution


 Govt taken to court over pollution


 Beijing to set new rules on vehicles to cut traffic jams, pollution    

 Water, air pollution in China still serious
"The water here has run out of fish after years of toxic waste being dumped," he said as he watched the flowing river near his house. "When I was a boy, the water used to be clear, and we were happy. Those days are long gone."
Chemical plants started to open up in Guo's village around the time the Lujiazui area of Pudong was selected by city planners as the site for a new financial hub in 1990.
"Very quickly, the water changed, the air changed and we all knew then our lives were going to be ruined," said Guo, whose home stands just 50 m from one of the chemical works. "We don't want to live with these time bombs. The only solution is for us to be moved out of here."
The residents of Xixin village have not been the only victims of the worsening pollution in Pudong and many other parts of the country. An investigation in 2006 by the Ministry of Environmental Protection (MEP), then called the State Environmental Protection Bureau, showed that more than 80 percent of the 7,500 petrochemical projects in China were operating next to waterways or densely populated regions, with 45 percent of them considered "potentially highly dangerous" to the environment.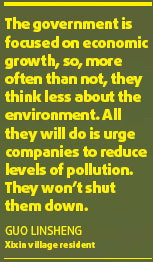 Pan Yue, then-director of the bureau, said this kind of inappropriate industrial planning was to blame for the ever-increasing water pollution incidents across the nation and was almost impossible to cure in the short term.
At least four cities in the past five years have been hit by cuts to drinking water supplies - some lasting for several days - caused by factories emptying toxic chemicals into local waterways, while major lakes such as Taihu in Jiangsu province, Chaohu in Anhui province and Dianchi in Yunnan province have all been plagued by blue-green algae blooms as a result of excessive pollution.
A study by the Yangtze River Committee affiliated to the Ministry of Water Resources discovered that nearly half of the 21,000 chemical companies in China in 2006 were based on the banks of the world-famous waterway. Today, accidents and illegal spills remain major threats to the river's ecology, the committee warned, while calling for proper industrial planning.