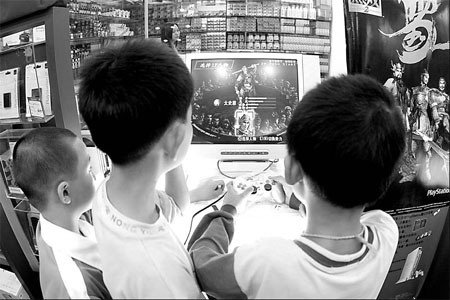 Three children play an online game at a computer market in Ningbo, Zhejiang province. [China Daily/Zhang Heping]
A teenager was allegedly beaten to death by counselors at an Internet addiction rehabilitation clinic in Nanning, Guangxi Zhuang autonomous region.
The 15-year-old middle school graduate, surnamed Deng, was pronounced dead around 3 am Sunday at Wuxu town health center in Nanning, China's national radio website cnr.cn reported on Sunday.
The medical record showed the boy had no pulse or blood pressure when he was taken to the hospital.
Related readings:


 My friends said it wasn't addictive, now I'm 17 and in rehab'


 Teenager allegedly beaten to death by 'teachers'


 titleBoys will be boys, but Net addicts younger than in the West


 Clinic expert defends Internet-addiction claim  


 China issues first definition of Internet addiction
Police have detained the suspects, the report quoted an anonymous official with Nanning public security bureau as saying.
On Saturday afternoon, the boy's parents took him to the camp - a branch of the Guangzhou Lizhi Training Center for Youth Growth. Teachers in the camp put Deng in confinement and beat him in the evening, the report said.
He was to stay in the camfrom Aug 1 to Sept 1 in order to "get away from bad behavior, regain confidence and establish positive life attitudes," according to an agreement Deng's parents signed with the center.
"The center can take necessary approaches including punishment to educate the teenager, as long as the approaches will not abuse the child or impair his health," the agreement said.
The center charged 7,000 yuan ($1,000) and promised to "take care of Deng, and supervise the teenager 24 hours a day in the first few days of the training".
Deng's parents wanted the camp to treat Internet addiction (IA) for their son who had no criminal record or other behavioral problems, the unnamed parents told the report.
Experts and educators yesterday denounced the camp's extreme act.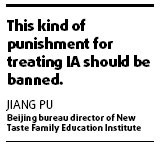 "Though there is no nationwide diagnostic standard and the IA recovery sector is still in its beginning stages, the tragedy shouldn't have happened," said Jiang Pu, Beijing bureau director of New Taste Family Education Institute.
"This kind of punishment for treating IA should be banned," he said.
Xia Lingxiang, a psychology professor with Chongqing-based Southwest University, said the government should invest more into research to find the physiological and psychological mechanism of IA and then formulate a diagnostic standard.
"Before the standard is set, all scientific approaches could be adopted to treat IA, but extreme approaches are unacceptable," he said.
As of Sunday, more than 100 juveniles were still being "guided and trained" in the camp, it reported.
Deng's parents arrived in the city from Ziyuan county of Guilin city on Sunday evening.
"We have not heard about the incident yet," a press official of Nanning, who declined to be named, told China Daily yesterday.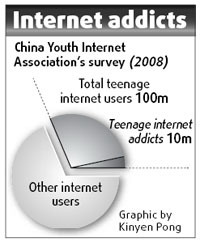 China Daily tried to contact the health center, but a doctor only giving her surname as Li was unclear whether the boy's body was moved and refused to comment further.
The camp's organizer also could not be reached.
China has 320 million Internet users. More than 10 million teenagers of the country's 100 million teenage Internet users are Internet addicts, according to China Youth Internet Association's survey last year.
However, the lack of a nationwide diagnostic standard on IA has caused controversy over approaches to treatment.
Last month, the Ministry of Health banned the use of electroshock therapy in the treatment of IA.
Huo Yan contributed to the story