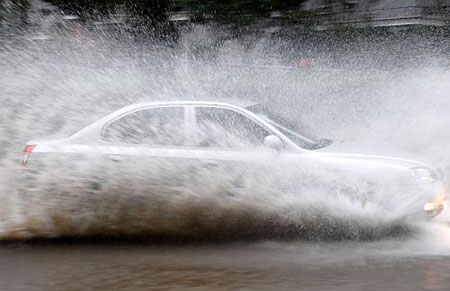 A car runs past a section of a flooded street in Shanghai, China, July 30, 2009. A short-time storm hit Shanghai due to a heavy cloud cluster on Thursday. Local observatory issued red alert signal of rain storm. [Xinhua]
SHANGHAI: The heaviest rains in 70 years hit China's largest city, Shanghai, Thursday, flooding 3,000 households and more than 70 roads.
Related readings:


 Heaviest rain in 53 years hits Dhaka


 Heavy rain hits SW Sichuan; 22 dead, 7 missing


 18 killed as heavy rain hits SW China


 6 dead, 8 missing due to heavy rain, mudslides in Japan


 Torrential rain kills eight; five missing
No casualties have been reported.
Rainfall reached 80 to 140 mm in most areas of the city. The water was 10 to 30 cm deep on the roads and 5 to 10 cm in households in Luwan, Huangpu, Zhabei and Jinshan districts.
Some vehicles were damaged by fallen tree branches, according to the municipal headquarters of flood control.
More than 500 workers are clearing away the water.