WASHINGTON: China and the United States said they are resolved to move their relationship forward, as high-level talks began Monday in Washington between the two nations.
Chinese and US officials said they are committed to constructive dialogue during the China-US Strategic and Economic Dialogue, a two-day event.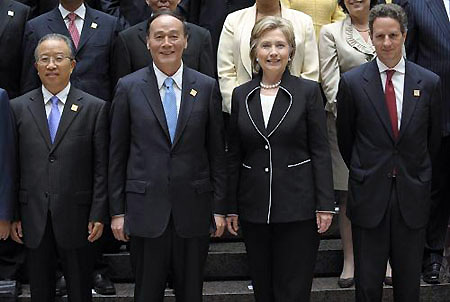 China's State Councillor Dai Bingguo (L), China's Vice Premier Wang Qishan (2nd L), US Secretary of State Hillary Clinton (2nd R) and US Treasury Secretary Timothy Geithner (R) stand with participants in the first joint meeting of the US-China Strategic and Economic Dialogue for a family photo in Washington July 27, 2009. [Xinhua]

President Hu Jintao sent a message as the talks began. Hu appealed for expanding common ground, reducing differences, enhancing mutual trust and strengthening cooperation through the dialogue.
"This serves the common interest of the two sides and will help advance the positive, cooperative and comprehensive relationship between our two countries," Hu said.
Special coverage:

US-China Strategic and Economic Dialogue
Related readings:

Obama: US-China relations to shape 21st century


Sino-US S&ED begins in Washington

China-US relations forge ahead on new course

Strategic-economic dialogue to facilitate China-US co-op

Upgraded China-US dialogue a new platform to expand co-op
Hu called for an "equal and candid manner" for the talks. He expressed confidence that the dialogue would inject a new dynamism into the two countries' relationship and lead to closer bilateral ties.
The talks were expected to break new ground, by bringing together the two countries' most senior officials across the full range of economic, diplomatic and strategic responsibilities.
The 150-strong Chinese delegation - including about 20 ministers - planned to have intensive discussions with members of the Obama administration's cabinet.
US President Barack Obama told the Chinese and US negotiators that the relationship will shape the 21st century, which makes it as important as any in the world.
"That reality must underpin our partnership. That is the responsibility we bear," Obama said.
Obama said he believes that the two countries share mutual interests.
"If we advance those interests through cooperation, our people will benefit, and the world will be better off - because our ability to partner with each other is a prerequisite for progress on many of the most pressing global challenges," he said.
China and the US were set to discuss a wide array of issues, including economic recovery, climate change, clean energy and security challenges.
Vice-Premier Wang Qishan and US Secretary of State Hillary Clinton are co-chairing the Strategic Track, and State Councilor Dai Bingguo and US Secretary of Treasury Timothy Geithner are hosting the Economic Track.
US officials said they appreciated China's growth and its contribution to the world's economic recovery and its role in promoting peace and stability in Asia and the Pacific.
The world economy is at a critical moment.
"The Chinese government," said Wang, "adopted a series of policy measures to respond to the international financial crisis. In the first half of the year, China's gross domestic product grew by 7.1 percent, with increasingly visible signs of economic stabilization and rebound."
Wang said a more open and dynamic Chinese economy would bring about great opportunities for all other countries, including the United States.
Geithner told the Chinese delegation that the US has taken steps to repair its financial system and to strengthen its financial regulations.
"We are committed to taking measures to maintain greater savings and to reduce the federal deficit to a sustainable level by 2013," Geithner said.
The breadth of the dialogue recognizes that many of the central issues of the time - ranging from meeting the challenge of sustaining global growth to addressing climate change - require sustained political commitment and unprecedented cooperation.
Clinton said this event differed from past dialogues in scope, substance and approach.
"It is comprehensive by design, meant to enlist the full range of talent within our governments and to include cross-cutting challenges that are neither bureaucratically neat, nor easily compartmentalized," she said.
Clinton quoted a Chinese saying, which goes: "When people are of one mind and heart, they can move Mt. Tai."