WASHINGTON: Chinese and US leaders vowed to build more constructive bilateral relations and join hands in solving problems of global importance as the two countries kicked off their first meeting of the Strategic and Economic Dialogue here in Washington today.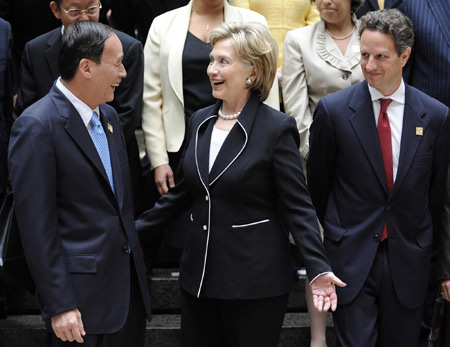 US Secretary of State Hillary Clinton (C) and Treasury Secretary Timothy Geithner (R) welcome China's Vice Premier Wang Qishan during a family photo for the first joint meeting of the US-China Strategic and Economic Dialogue in Washington July 27, 2009. [Agencies]
China and US share extensive mutual interests and have vast room for cooperation, said President Hu Jintao in a message sent to the two-day event, which will be co-chaired by China's State Councilor Dai Bingguo, Vice Premier Wang Qishan and the US Secretary of State Hillary Rodham Clinton and Secretary of Treasury Timothy Geithner.
Special coverage:


 US-China Strategic and Economic Dialogue
Related readings:


 Strategic-economic dialogue to facilitate China-US co-op


 Upgraded China-US dialogue a new platform to expand co-op


 China, US dialogue to focus on strategic, economic issues


 China, US should find common ground in strategic dialogue


 China-US dialogue to facilitate cooperation
The dialogue is conducive to building "positive, cooperative and comprehensive" Sino-US relations, Hu said.
US President Barack Obama said the S&ED is an "essential step" forward in advancing the bilateral relations and will help the two countries get their relationship "off to a good start" while the two countries still have some differences.
He stressed the importance of mutual understanding by citing Chinese basketball player Yao Ming, who plays for NBA, as saying: "No matter whether you are new or an old team member, you need time to adjust to one another."
During the annual dialogue, the two sides will exchange views on a range of important issues, such as global economic recovery, climate change and clean energy, regional security as well as global poverty.