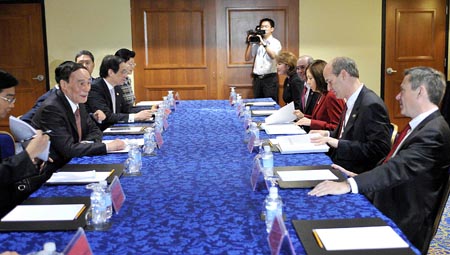 Chinese Vice Premier Wang Qishan (L2) meets with U.S. Congressmen in Washington, D.C., on July 26, 2009, the day before the first round of the China-U.S. Economic and Strategic Dialogue, which is to be held in Washington, D.C. from July 27 to 28.
The China-U.S. Strategic and Economic Dialogue (S&ED) will be held in Washington on Monday and Tuesday, when the two countries will have extensive discussions on issues of common concern to deepen understanding, enhance mutual trust and promote cooperation.
Chinese Vice Premier Wang Qishan will co-chair the "Economic Track" of the dialogue with U.S. Treasure Secretary Timothy Geithner, while Chinese State Councilor Dai Bingguo will co-chair the "Strategic Track" with U.S. Secretary of State Hillary Clinton.
The scheduled high-level meeting, the first of its kind between the world's biggest developing country and biggest developed country, is a reincarnation in a broader format of the Strategic Economic Dialogue set up by the two countries in 2006.
The new mechanism was jointly launched by Chinese President Hu Jintao and his American counterpart Barack Obama during their meeting on the sidelines of the G20 summit in London on April 1.
"President Obama will address the opening session of the first U.S.-China Strategic and Economic Dialogue on Monday July 27," White House spokesman Robert Gibbs told reporters early this week.
The dialogue will address the challenges and opportunities that both countries are facing on a wide range of bilateral, regional and global issues of immediate and long-term strategic and economic interests. It will also set the stage for discussions on ongoing and future bilateral cooperative mechanisms, the spokesman said.
Since Obama took office in January, thanks to the joint efforts of both sides, China-U.S. relations have maintained the good momentum of development. The frequent high-level exchanges and consultations at different levels have effectively promoted mutual understanding and cooperation in many fields.
In addition, a series of bilateral discussions on the nuclear issues on the Korean Peninsula and in Iran, the situations in South Asia and the Middle East, energy security and global climate change have also yielded positive results.
All these efforts by China and the United States have created a favorable atmosphere for the coming China-U.S. Strategic and Economic Dialogue.
The fruitful dialogues between China and the U.S. in recent years have played important roles in promoting bilateral ties. People are confident that the two countries, in the first round of the China-U.S. Strategic and Economic Dialogue , will further broaden consensus, reduce differences, deepen mutual trust and enhance cooperation, so as to promote positive cooperation and push forward bilateral ties in a comprehensive way.
Editor:Guo Changdong Source:Xinhua