URUMQI: The premiere of the blockbuster movie Harry Potter: The Half-blood Prince was delayed for several hours in Urumqi Wednesday over safety fears, on the day the riot death toll climbed to 192.
The movie, which had been scheduled for a midnight screening, was not seen until 11 am. But the fact that it was played at all shows this city is edging back toward normality after the July 5 unrest, said observers.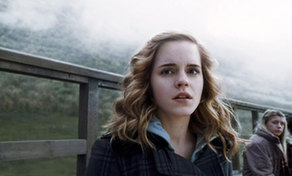 Actress Emma Watson portrays the character Hermione Granger in Warner Bros. Pictures' fantasy adventure film "Harry Potter and the Half-Blood Prince" in this undated publicity photograph. [Agencies] 

Big posters of Harry Potter and Transformers: Revenge of the Fallen decorated the front of People's Cinema, which is one block from People's Square, the center of the bloody violence.
When the audience entered the cinema to enjoy the spell cast by Harry Potter and his fellow wizards Wednesday, they passed a reminder of the recent violence in the form of a banner hung on the outside of the cinema reading: "Against Separation, Safeguarding Unity".
"Harry is luckier than the Ice Age animals," said Li Juan, manager of People's Cinema, referring to the Dreamworks movie Ice Age III, which had been scheduled to arrive on July 8 and which arrived several days late because of the violence.
But only 63 tickets were sold for the Harry Potter premiere in the theatre that can seat 760.
"The market is still frozen. I wish the wizard really had some magic," said Li, whose cinema closed on the night of July 5 and reopened on July 8.
Related readings:


 "Harry Potter" poised to fetch princely sum


 Daniel Radcliffe, Harry Potter star, can't find a girlfriend


 Chinese cinemas await lucrative Harry Potter


 Cast memebers at premiere of "Harry Potter and Half-Blood Prince"in N.Y.


 "Harry Potter" stars felt pressure to "ace" kiss
"I was still worried about the security, but my daughter begged me to take her to watch the film," said Guli Shawuguli, a Kazak mother of an 11-year-old girl.
Zheng Tong, general manager of another Urumqi movie house, Os Car Cinema, had high hopes for Harry Potter.
"He finally arrives! I've been waiting for him for a long time," he said.
His cinema only reopened July 10 and then sold just 173 tickets to the theatre that can cater to 1,600.
Urumqi has seven cinemas. People's Theatre, one of the buildings ransacked by rioters, remains closed.
Xinhua reported Wednesday that the riot death toll had risen by eight to 192 and the number of injured had been updated to 1,721 from 1,600.
Some 66 people remain in critical condition and 179 people were seriously injured.
China Daily - Xinhua