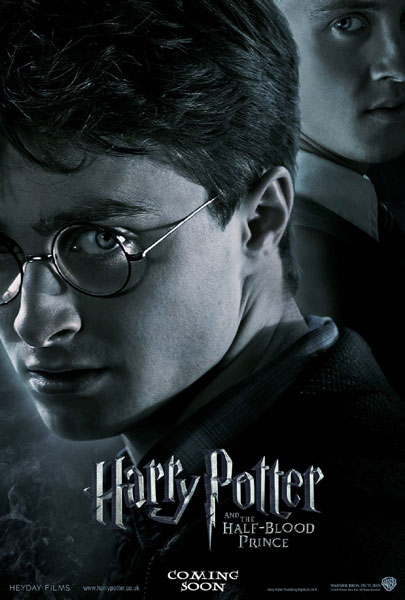 A poster of "Harry Potter and the Half-Blood Prince" [Photo: Warner Bros./ent.sina.com.cn]
Movie theaters across China are gearing up for Wednesday's release of the newest Harry Potter film, which is expected to be this year's leading box office revenue raiser.
"Harry Potter and the Half-Blood Prince", the sixth installment of the boy wizard franchise, will open on the Chinese mainland simultaneously with its release in 47 other countries and regions.
Mainland distributors have prepared 600 prints, not including nearly 1,000 digital screens which are ready for a deluge of enthusiastic movie-goers.
Posters for the film can be seen at the front of every major theater. Meanwhile, Potter fans in Beijing will be able to enjoy an exclusive experience as the film hits local IMAX screens about a week ahead of its IMAX release across North America.
The latest Potter film contains 12 minutes of 3D footage which is best viewed in an IMAX cinema.
"Harry Potter and the Half-Blood Prince" focuses on Harry's sixth year at the wizard school Hogwarts and his preparations for the final battle amidst an emerging romance.
The previous five Potter films have grossed 4.47 billion US dollars worldwide since 2001, making this one of the most lucrative movie series of all time.
The sixth Potter film will only make the ongoing summer box office battle at Chinese cinemas even fiercer. Other strong competitors include "Transformers: Revenge of the Fallen", "Terminator Salvation", the 3D animation "Ice Age: Dawn of the Dinosaurs", and the domestic comedy "Looking for Jackie Chan". Among them, "Transformers" has so far raked in 400 million yuan (US$58.54 million), and has already replaced "Titanic" as the most bankable film ever released on the Chinese mainland.