Executives from all 16 Chinese steel mills participating in iron ore price talks this year have been bribed by Rio Tinto employees, an industry insider claimed Tuesday, amid reports that the government is considering invalidating 20 iron ore import licenses to regulate the chaotic ore import business.
The startling claim comes amid a widening probe of alleged business espionage linked to the world's second-largest iron ore miner, Rio Tinto.
Executives from five leading domestic steel makers and officials from the industry association are reportedly under investigation following last week's detention of four employees of Rio Tinto's China operation, including an Australian.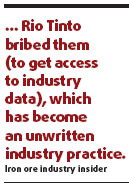 "Rio Tinto got to know the key executives of the 16 steel mills, who have sensitive industry information, when the China Iron and Steel Association (CISA) brought them to the bargaining table," said a senior manager at a large steel company, who requested anonymity.
"And then Rio Tinto bribed them (to get access to industry data), which has become an unwritten industry practice," the source said.
"If companies didn't accept, they would have cut supplies and so the whole steel industry has been bribed."
His words come as the CISA is reportedly mulling over re-examining the iron ore import licensing system because some license holders are said to have abused their rights.
"It is very likely for CISA to cancel about 20 iron ore import licenses held by steel makers and trading companies, with a focus on trading companies," the 21st Century Business Herald reported, citing an anonymous source.
Another industry insider, who also requested to be unnamed, told China Daily: "There are about 1,200 steel mills in China. Most small- and medium-sized mills without import licenses have to buy ore from big ones with licenses.
"Therefore, some big mills don't care about the ore prices because they could transfer the increasing cost to small- and medium-sized ones. Meanwhile, those small- and medium-sized steel mills are forced to sign contracts with global miners privately."
And, Hu Kai, analyst with Umetal, a steel consulting firm, said: "Because of their own interest and intense competition among various steel makers in China, it's unlikely for them to present a united front when bargaining with overseas ore providers."
Related readings:


 Secrets of Chinese steel mills found in Rio's computers


 Australia: Rio case not to affect trade ties

 Detained Rio Tinto executive in good health: Australian FM


 Govt: Proof against Rio spies sticks


 FM: China to handle Rio spy case 'according to the law'
But Hu said such measures can't solve the root problems, because huge demand for iron ore in China determines that the price talks will continue and disorder will continue to exist.
"I suggest the country should first control the output of the iron and steel industry. Besides, China should also enhance exploration of domestic mines and increase investment in overseas mining resources," Hu said.
CISA started reducing iron ore import licenses in 2005. By the end of last September, the number of firms possessing licenses in China has been reduced from 500 in 2005 to 112 now, and trading firms from 250 to 40.
The Shanghai State Security Bureau earlier this month detained Stern Hu, an Australian citizen and Rio's chief iron ore salesman in Shanghai, and three of his Chinese colleagues. They are accused of stealing sensitive industry data critical to China's iron ore price talks.