SHANGHAI: Australia's trade minister pressed China on Saturday for more details about the detention of a Rio Tinto executive, but said he did not expect the case to affect bilateral trade ties.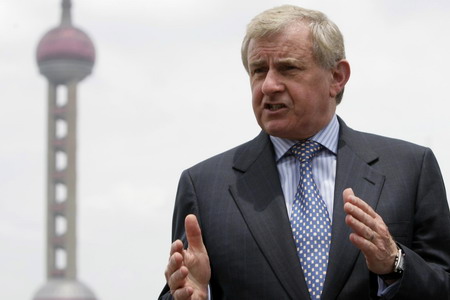 Australia's Trade Minister Simon Crean speaks during a news conference in Shanghai July 11, 2009. Crean pressed China on Saturday for more details about the detention of a Rio Tinto executive, but said he did not expect the case to affect bilateral trade ties. [Agencies]
Stern Hu, an Australian national, and three Chinese employees of Rio Tinto's iron ore department were detained last week, on what China said was suspicion of stealing state secrets.
Simon Crean told reporters he had expressed "strong concern" to the Shanghai city government regarding Hu, and that Australia hoped the issue would be dealt with quickly.
"We've stressed the importance of getting further and better details," the minister said, speaking on the rooftop of a restaurant on Shanghai's historic Bund waterfront.
"We have no information as to what the investigation does involve. We're going on the basis of press reports. The government here is not able to inform us anymore," he added.
"We respect the Chinese legal system and the processes that need to be gone through, but we've indicated that this too is an important issue back home in Australia."
Australian consular officials visited Hu at the Shanghai detention center where he is being held on Friday. Crean said Hu had appeared well.
Related readings:


 Detained Rio Tinto executive in good health: Australian FM


 Rio spy case may hamper iron ore talks


 Govt: Proof against Rio spies sticks


 FM: China to handle Rio spy case 'according to the law'


 Rio employees 'held for espionage'
"We have a different set of rules back home for the treatment of individuals than is the case here. ... We have to respect their system and work within it."
The detentions came just after Chinese steel mills, led by the China Iron and Steel Association, failed to reach an agreement on 2009 iron ore prices with Rio and rival miners BHP Billiton and Vale by a June 30 deadline.
At least one senior official at China's eighth largest steel mill, Shougang, has also been detained, according to media reports.
In the last four years, the annual term iron ore price negotiations have become increasingly fraught, with the result seen as vital to China's national interest.
The case has stunned the global steel industry, which was already transfixed on the marathon iron ore talks. After more than six months of cat-and-mouse, China appeared to be boxed in, forced to accept Rio's price or to abandon long-term deals and risk destroying a decades-old pricing system.
Crean downplayed the potential economic impact of the case. "I see no reason why our trade relationships will be damaged, if what we can get is an expedition of the process in accordance with Chinese law," he said.
"The commercial opportunities in China are very strong for Australian interest. The inter-dependency between our two economies is very strong," the minister added.
"We believe that both economies, Australia and China, need each other," he said. "But we should always do it within the law. The government will do it that way, and I've a strong message to every commercial interest that they too need to do it that way."