China's first astronaut, Yang Liwei, who blasted off six years ago, may soon see a woman follow him on the long journey into space.
"The selection (of China's first woman astronaut) is underway I believe Chinese women will be seen in space in the near future," Yang said during a webchat with xinhuanet.com on Tuesday.
Yang, now 44, made history when he voyaged beyond the planet's atmosphere for 21 hours aboard the Shenzhou V spaceship in 2003.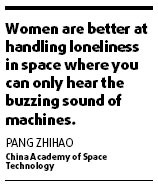 He was among a batch of 14 Chinese men trained to be astronauts. Now, he is in charge of the country's selection of the next generation of astronauts.
He did not say how many women will be recruited into the program but was adamant women will be among China's second batch of astronauts.
An Air Force source told China Daily that potential female astronauts would be recruited from the 16 female fighter pilots who graduated in April.
The 16 became the first young women in China qualified to fly fighter jets.
They were chosen from 150,000 high school graduates in 12 provinces.
Sui Guosheng, the Air Force officer in charge of recruitment, told Guangzhou-based Nanfang Weekly that those chosen to join the astronaut program will undergo between two and three years of training.
The first female astronaut could complete her journey into space by 2012, Sui said.
Yang said the astronaut training program has been tweaked for the second batch of astronauts.
Volunteers, including university students and parachutists, have participated in experiments aiming at finding out how women differ from men - both biologically and physically.
"Women are better at handling loneliness in space where you can only hear the buzzing sound of machines," said Pang Zhihao, a researcher with the China Academy of Space Technology.
Related readings:


 China plans to launch Shenzhou-8, Shenzhou-9 in 2011


 HK citizens welcome astronauts, Shenzhou VII delegation


 China to select 5 to 7 astronauts for new mission


 Shenzhou-VIII to carry bio sample for Europe


 Re-entry module of Shenzhou VII back in Beijing

Overseas studies indicated that zero gravity in space may have less impact on women than on men, he said.
And the differences have led some experts to conclude that women are better suited to long-term missions in space, he added.
The first woman in space, Valentina Vladimirovna Tereshkova, piloted the Soviet Union's Vostok 6 back in June 1963, staying in space for almost three full days.
In addition to the Soviet Union, the US, Japan, South Korea and Europe have all put women into space.