'Gao kao' is over. Now what?
This is 18-year-old Han Yuheng's longest and most relaxing summer - no homework, no extra classes to prepare for the college entrance exam and nearly three months to kill before heading off to college.
Yet after two weeks of excessive sleeping and online surfing, Han, a high school graduate in Chaoyang, Liaoning province, is at a loss.
"I try to read ancient Chinese classics and literature, which are my favorites, but they fail to engage me for long. I go jogging in the morning but find it boring. I spend long hours playing online games till my mom gets really angry with me," he says.
"I used to complain about too much homework and no spare time. Now I have lots of time that I can use at will, but just feel confused about what I want to do."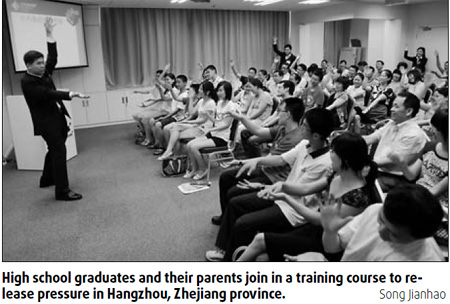 Han's predicament, dubbed by some as "post-exam syndrome", is not uncommon among his contemporaries, who have taken "gao kao", or the National College Entrance Exams (NCEE) on June 7, 8 and 9.
According to the Ministry of Education, 10.2 million people registered for the exams this year, 3.8 percent fewer than in 2008. About 73.5 percent of the exam-takers are high school graduates.
Gao kao has long been viewed as not only a key turning point for individuals and families, but also as a national event in China. The whole process used to be described as "a carp jumping over the Dragon Gate" or "thousands of people forcing their own way across a narrow foot bridge". Thanks to a State policy of expanded college enrollment since 1999, more people have been admitted to universities. The Ministry of Education expects an average admission rate of at least 62 percent this year.
Still, students and parents have to endure great pressure in the lead up to the exams. The emergence of physical and mental disorders in high school students after taking the exam has aroused public concern.
Related readings:


 College Entrance Exam ends


 College Entrance Exams a test for all


 10m sit China's college entrance exams amid cheating, flu concerns


 10.2 million students attend college entrance exam


 Boy runs away to avoid national entrance exams
"The major characteristics of post-exam symptoms are that students are over relaxed and indulge in entertainment, for instance, watching DVDs, playing computer games, chatting online and hanging out in bars overnight," Yin Zongyu, former director of the Xicheng District Education Research Center, Beijing, told a local newspaper.
An online poll on "what you want to do after the NCEE" by the People's Daily's website showed that 77.2 percent of the 13,411 respondents voted sleep, party and indulgence in other enjoyments. Only 15 percent clicked consulting for studying abroad and preparing for campus life. The remaining, about 7 percent, had yet to decide on their college major.
Ruan Dandan, a college freshman in Guangzhou, capital of Guangdong province, says she slept for several days after she took the NCEE last year. She felt like doing nothing all day except sleeping and watching TV. She says she felt her thinking and reflexes were slowing down, and she was losing the direction in life. Her feelings are shared by many of her classmates.
Several hotpot restaurants in Chongqing municipality reported receiving many reservations from high school graduating classes, and some were even made a week before the NCEE.
Doctors at local hospitals also say they typically see very drunk graduates after the exams, every year. For most of them, it is the first time out drinking and recreating all night and they damage their stomachs and livers.