CHONGQING -- Large rocks fell onto a drilling platform in southwest China Friday, the site of rescue work for 63 people who were left missing by a massive landslide a week earlier, rescuers said.
The small landslide at Jiwei Mountain didn't injure anyone but did delay rescue work, they said.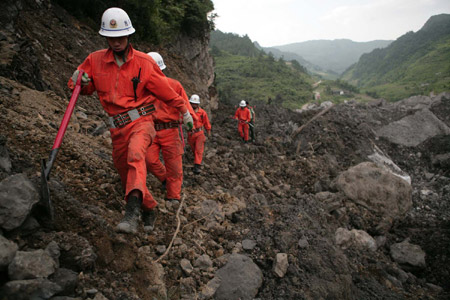 Rescue workers search for survivors at the site where a landslide occured earlier in the Jiwei Mountain area, in Tiekuang Township, southwest China's Chongqing Municipality, June 6, 2009. [Xinhua]
The rescue plan calls for lowering life detection instruments into holes drilled into an iron ore mine where 27 workers are among the 63 missing in the landslide.
Rescuers said that they had drilled several holes, but none had reached mine saps in the mountain.
Related readings:


 Super helicopter called in for landslide rescue


 Rain, fog slows landslide rescue operation


 Landslide rescuers find 2 more bodies; 63 still missing

 Landslide victims to get 200,000 yuan


 China orders all-out efforts to save life in landslide
An MI-26 heavy-lifting helicopter Friday brought seven pieces of heavy equipment to remove landslide rubble at the site where rescuers are looking for the mine entrance.
Clearing work had progressed slowly, according to a Xinhua reporter at the site. He said the landslide had left extensive debris.
Rescuers are still trying to increase the height of an embankment that is holding water back at a barrier lake created by the landslide.
According to the rescue headquarters, the lake contained 40,000 cubic meters of water Friday, rising by 0.5 meters from yesterday. The level is now 1 meter below the embankment, thanks to the continuous building of the embankment.
Rescuers finished laying a drainage pipeline Friday morning and prepared to pump water out of the lake. They said the pipeline could remove 15,000 cubic meters of water a day.
Liu Ning, vice minister of water resources, said, after inspecting the work at the landslide site on Thursday that the pipeline drainage could not fundamentally remove the risk of the barrier lake. But with rescuers still seeking the missing, the pipeline was the only way to reduce the risk of the lake, he said.