Five days after a landslide buried an ore mine and part of a village in Chongqing municipality, hopes of finding more survivors started dwindling Tuesday as "difficult weather" conditions forced rescue work to slow down.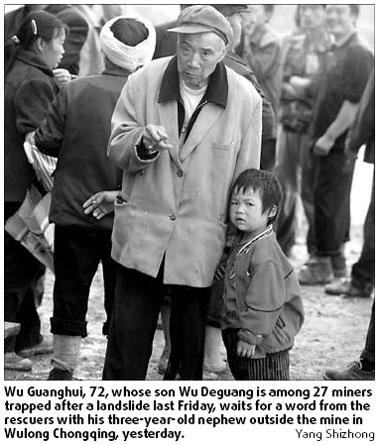 Continuous rain coupled with heavy fog has made the search and rescue operation on the Wuling Mountain, connected by a narrow muddy road, "extremely difficult", rescuers said.
"This is the most difficult rescue operation I have ever been involved with," said a veteran with 30 years' rescue work behind him.
"There's no map, no directions. The only hope of finding a body or a survivor is by detection tools," he said.
The landslide buried almost half of the Hongbao village's houses on June 5, killing nine people, with 63 still missing.
Rescuers Tuesday continued to dig through piles of debris hoping to touch an abandoned gate to the mine some 200 m below ground, where about 27 miners are said to be trapped.
But a majority of the rescuers were struggling to avert another disaster.
About 10 m away from the mine, a 1.5-m-deep pond threatens to flood the mine if it continues to soak in water.
Hundreds of rescuers were busy trying to pump out water from the pond with the help of a kilometer-long meter-wide pipe.
Even as weather played foul, rescue workers toiled hard to dig out more survivors. There were signs of life below the debris.
Jian Shengqiong, 30, phoned her missing sister, believed buried under the debris, Tuesday on her cell phone, which was "answered".
"I could even hear someone coughing. But then the phone got disconnected," she said.
Experts said the trapped miners could survive for "seven days", as the mountain, made of limestone, can soak water, and the massive underground space provides "enough air to breathe".
But local residents, who have seen mine accidents in the village before, said chances of finding more survivors were bleak.
"It is hard to find anyone alive now," said 30-year-old Xiang Yu, whose father is buried under the debris.