The government Thursday sacked tainted Shenzhen mayor Xu Zongheng even as it continued investigating him for alleged corruption.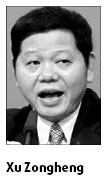 The 54-year-old former boss of the pivotal city of reform may now face a criminal probe.
Meanwhile, media named more officials and celebrities, including an Olympic gymnast, alleging their possible involvement with Xu.
Xu's fall is bound to uncover the involvement of some major players, who either bribed the mayor for government positions or to win bids for construction projects, media said.
The Hong Kong-based Ming Pao newspaper reported on Monday that vice-mayor Yan Xiaopei, a non-Communist Party official "close to Xu", was also being questioned by the government's discipline commission.
The online version of the Beijing-based Caijing magazine reported Thursday that Yan's recent absence from the city's major events was unrelated to Xu's probe. The vice-mayor, who is reportedly ill, is "still under medical observation", it said.
Related readings:


 Suzhou Party chief nominated Shenzhen mayor


 Shenzhen mayor fired for disciplinary offenses


 Shenzhen mayor faces graft probe


 Shenzhen mayor investigated over serious discipline offences

The city's executive vice-mayor Xu Qin, who ranks first among the deputies, has taken over the mayor's responsibilities for now, the report said. The 48-year-old Jiangsu native was in charge of the nation's high-tech industry before he was posted to Shenzhen just over a year ago.
In a desperate bid to get a clean chit from the ongoing investigation, most of the city's nine vice-mayors have made high profile public appearances since the central government confirmed Xu's detention on Monday.
Six of them showed up in different administrative meetings on Tuesday, while a seventh figured in the government's official daily on Wednesday.
In another development yesterday, actress and Olympic gold-medalist gymnast Liu Xuan, and actress Zhou Xun rejected claims they were ever involved with the tainted mayor.
Liu, who shares her hometown in Hunan province with Xu, wrote on her Web blog that she felt "wronged" to be considered the "secret lover of a potentially corrupt official".
The Ming Pao newspaper reported on Tuesday that Xu has been "close to a mainland actress, who has secured residence in Hong Kong through the Quality Migrant Admission Scheme".
The media targeted six mainland actresses, including Zhang Ziyi, Tang Wei, Liu Xuan and Zhou Xun, as Xu's "possible secret lovers".
The government is yet to reveal the reason behind Xu's detention.
But Shi Dongbing, a well-known political writer, who claimed to be a close friend of Xu, said the former mayor has been "found guilty of bribing superiors to secure promotions and striking profitable deals with real estate developers" in Shenzhen.
It was rumored Xu bribed 64-year-old Chen Shaoji, former chairman of the Guangdong committee for the Chinese People's Political Consultative Conference, for a promotion.
Chen was also probed for his involvement in corruption charges against Huang Guangyu, founder of home alliance giant GOME.
Analysts said Xu's growing unpopularity among local political rivals might have led to the probe.
Xu's wife, a manager of a State company in Shenzhen, is also under investigation, Ming Pao reported.