CHONGQING -- An MI-26 heavy-lifting helicopter arrived in southwest China's Chongqing Thursday and began carrying in heavy machinery needed in the search for 63 people missing after a massive landslide on Friday.
Rain had delayed the helicopter's arrival since Sunday.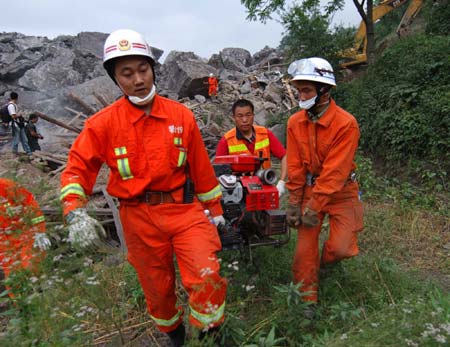 Firefighters carry a pump at the site of the massive landslide in southwest China's Chongqing, June 7, 2009. [Xinhua]
The heavy machinery will be used to remove giant rocks that buried two entrances of an iron ore mine, where 27 miners are believed to be trapped.
Related readings:

 Rain, fog slows landslide rescue operation

 Landslide rescuers find 2 more bodies; 63 still missing


 Landslide victims to get 200,000 yuan


 China orders all-out efforts to save life in landslide


 Chongqing landslide buries 87 people
The helicopter is operated by the Harbin Aviation Industrial Group, in Harbin, northeast China's Heilongjiang Province. The MI-26 is the world's largest helicopter with a maximum load of 20 tons.
A rescuer surnamed Jiang said that the rescue plan was to drill a hole through which they could put life detection instruments.
If there were signs of life, rescuers would use explosives and heavy machinery airlifted by the helicopter to clear the mine entrance, he said.
The drilling had not reached the mine shafts on Thursday morning.
A rescue headquarters spokesman said if the trapped miners could find water in the mine, they could have a chance of survival.
Hundreds of rescuers have worked by hand in dangerous landslide rubble for six days, under the risk of secondary disasters.
Local authorities had moved 141 residents from the area, and disinfected an area of 15,000 square meters by Thursday.
Eight injured people who were found by rescuers on Saturday were all described as stable on Thursday. Rescuers have found nine bodies so far. Three of the dead have been identified by DNA tests.
The rescue headquarters spokesman said rescuers had built a temporary embankment to prevent water from flowing out of a barrier lake formed by the debris, which had filled a valley of Wujiang Lake.
The lake is holding 36,000 cubic meters of water, and the level is 70 cm below the top of the embankment.
Rescuers are laying a drainage pipeline pump water out of the lake.
A geological survey led by Chongqing land and resources authorities found that about 1.5 million cubic meters of Jiwei Mountain slid 600 meters, bringing down more than 3.5 million cubic meters of debris.