SHANGHAI: The visibility of the LGBT (lesbian, gay, bisexual, transgender) community in China has been growing fast recently but its profile became more prominent this week as Shanghai hosted the country's first gay pride festival.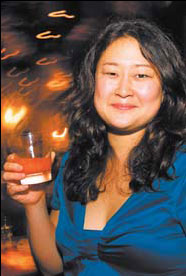 Photo courtesy of Grant-oh! Buchwald
Although LGBTers will not take to the streets for a traditional-style parade, the festival is being hailed for making the community more "visible" along similar lines to the way it is in the United States, where President Barack Obama officially designated June the National Gay Pride Month.
The Shanghai event, which includes films, art exhibitions, panel discussions and theatre productions, began on Sunday and is set to finish on June 14.
The main attraction is likely to be an all-day party on Saturday, when organizers expect to attract at least 2,000 people.
Tiffany Lemay, the American co-organizer of the festival, said public parades in the city "aren't a possibility" - she took legal advice on the likelihood - but she said parades are not the only way to raise awareness and visibility.
"Shanghai Pride is a community building exercise. We hope to raise awareness of issues surrounding homosexuality, raise the visibility of the gay community, help people within our community to come out, and build bridges between the gay and straight communities," she said.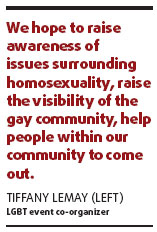 The event will be much larger than other gay events in China and will synchronize with the global gay pride movement, she said.
She said the first two days wrapped up with a "great response". Several hundred people attended the opening night of a movie screening and a panel discussion.
"I think gay culture in Shanghai has gradually come out of the closet, thanks to the expat community in the city," said a gay man surnamed Chen, who lives with his partner in Shanghai.
A netizen using the name Robert Copeland wrote on ShanghaiPRIDE's official website: "This is a very important step to make us 'invisible' people visible. Step by step, homophobia can be destroyed."
Organizers said people were coming to the festival from Beijing and Hong Kong among other places.
China has a homosexual population of 30 million people - 20 million gays and 10 million lesbians, said Zhang Beichuan, China's leading scholar in the field of homosexuality. The government puts the figure at between 5 and 10 million.
China removed homosexuality from its list of crimes in 1997 and, in 2001, recognized it as natural phenomenon rather than a mental problem.
Related readings:


 Hundreds march for gay marriage in California


 Calif upholds ban on gay marriages


 Celebrities support gay unions


 US gay diplomats to receive equal benefits


 Seniors to train 'gay' monks in Thailand

As an American who's been living in Shanghai for six years, Lemay has noticed public attitude toward homosexuality in the city has changed a great deal in the past few years.
"This time around, when we floated the idea (of a festival) to different sectors of the community, we found that people were actually very open to the idea and so we went with it," she said.
Fang Gang, associate professor from Beijing Forestry University who wrote a book about homosexuals in China in 1995, said public tolerance of gay culture has grown "significantly" in China.
"When I wrote that book in the mid-1990s, I had a hard time finding and interviewing gays, and we talked in the toilet and psychological clinics in order to avoid discrimination. Now however, we see lots of bars and social organizations where you can find those people very easily."
But social discrimination against homosexuals still exists in terms of rights to education and employment, added Zhang, who said he has heard of instances of students being expelled from university for being homosexual.
Shan Juan contributed to the story in Beijing