FRESNO, California -- Hundreds of same-sex couples and their supporters marched Saturday through dusty California farm towns, pushing for gay marriage in the state's conservative center.
Just days after the state's highest court upheld a ban on gay marriage, advocates said they wouldn't be dissuaded, and vowed to win the hearts and minds of those who reject their unions.
They pledged to put a new initiative before voters to overturn the ban, perhaps as soon as next year, and to take their message to Washington in October.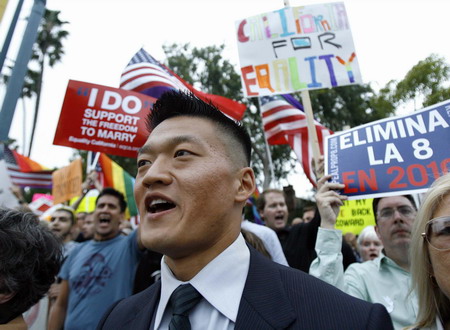 Lieutenant Dan Choi, who was recently dismissed from the US Army for admitting he was gay, chants during a rally outside the Beverly Hilton hotel, where US President Barack Obama was attending a Democratic party fundraiser, in Beverly Hills, California May 27, 2009. [Agencies]

The weekend-long event has attracted the movement's veteran activists and celebrities including Charlize Theron and Eric McCormack. It was organized by a lesbian mother in Fresno who was removed from the parent-teacher association at her son's Roman Catholic school after she spoke out against banning same-sex weddings.
Related readings:


 Calif upholds ban on gay marriages


 US gay diplomats to receive equal benefits


 Britney Spears fights for gay rights


 Beauty queen defends gay-marriage comments


 Gay marriages to begin in Iowa April 24
"Fresno represents middle America values, and we can start changing our neighbors' feelings about gay marriage beginning right here in the Central Valley," said lead organizer Robin McGehee, a 36-year-old college professor who married her longtime partner last year. "We're doing exactly what the freedom riders would do in the South in the 1960s, which is reaching into communities that are different from us so we can all live in equality."
Many gay activists now believe their campaign against Proposition 8, which enshrined the ban on gay marriage in the state Constitution, focused too much on liberal urban enclaves along the coast, failing even to reach out to the state's rural regions. The measure passed with nearly 69 percent of the vote in Fresno County, compared to 52 percent statewide.
"We aren't here to impose our beliefs on anyone. We are here to begin a dialogue on civil rights," said Cleve Jones, a pioneer activist and protege of Harvey Milk, San Francisco's first openly gay leader who was slain in 1978. "Harvey said we can't win unless we open up our hearts to connecting with people who appear to be very different from us."
Paying homage to the 1965 marches in Selma, Alabama, that marked the peak of the civil rights movement, the "Meet in the Middle 4 Equality" protest began Saturday morning in Selma, California, the self-proclaimed raisin capital of the world.
Hundreds of spirited marchers were escorted by the California Highway Patrol along an aging highway to Fresno, a city of more than 450,000 and the largest in the agricultural San Joaquin Valley. On the lawn adjacent to City Hall organizers flew a massive rainbow flag on loan from San Francisco's Castro District, the nexus of the city's gay and lesbian community.