Watch us and watch what we do - in staging a strong recovery and controlling the rising deficit.
That was the bullish riposte from US Treasury Secretary Timothy Geithner to Chinese skeptics during an interview with China Daily Tuesday.
His message: The United States will spawn a strong recovery, control the rising budget deficit, and thereby protect the value of dollar-denominated assets of investors.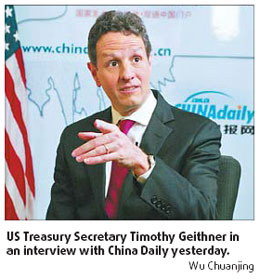 To Chinese economists still not convinced, Geithner's message was unequivocal: "We are absolutely committed to doing that, and I am completely confident that we will be able to do it."
Replying to pointed questions on the ballooning US budget deficit and the safety of Chinese investments, he said: "As soon as we lay a foundation for recovery, we are going to bring down, unwind, reverse through these exceptional measures we have taken in the financial sector to repair the system and make sure credit is flowing again.
"We have the deepest, most liquid markets for Treasury securities in the world, and we are going to do everything we need to do to make sure we sustain confidence in the United States and around the world in the strength of our economy and financial system."
The US government deficit is projected to reach $1.75 trillion in the year ending Sept 30 from last year's $455 billion, according to the Congressional Budget Office. The Obama administration aims to narrow the gap to about 3 percent of gross domestic product by the end of its four-year term from a projected 12.9 percent this year.
Related readings:

 Geithner sells a devalued dollar


 Geithner says US concerned about the deficits


 Geithner tells China its dollar assets are safe


 Geithner pledged deficits cut, but GM bill grows


 Geithner's China trip to focus on trade
On his first trip to China after being appointed the Treasury secretary in the thick of a staggering global financial crisis, Geithner appeared to have won some backing from China, with top leaders saying the two countries have set a good example in working together toward a quick recovery of the global economy.
"I think partly because of the strength of the actions put in place by your government and by President (Barack) Obama we're starting to see some early signs of stabilization and recovery in the global economy," Geithner told President Hu Jintao Tuesday.
Premier Wen Jiabao was quoted in a statement released by the Foreign Ministry as saying that "the foremost task for both countries is to work more closely to address the global economic crisis, oppose protectionism in trade and investment, promote reform in the international financial system, and tighten oversight of international reserve currency so as to ensure the stability and growth of China, the US and the world."