Ding Cong, one of China's most renowned caricaturists, passed away Tuesday in Beijing as a result of cerebrovascular disease. He was 93.
According to his wife, Shen Jun, his only request was that no farewell ceremony or memorial meeting be held.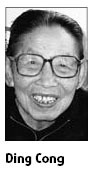 "He was a common person and wanted to leave as a common person," she said.
Ding was best known for his illustrations of characters from novels by Lu Xun (1881-1936) and Lao She (1899-1966), as well as for his column with Reading (Dushu) magazine.
Born in Shanghai in 1916, Ding began to publish caricatures in the early 1930s. During the War of Resistance against Japanese Aggression (1937-1945), he worked as an editor, stage designer and art teacher in Southwest China and Hong Kong and released caricatures to promote resistance against the Japanese invasion.
After the founding of New China in 1949, he was deputy editor-in-chief of the People's Pictorial. In the two decades following 1957, he could not publish caricatures because of the extreme leftist policies of that time.
Related readings:


 Portrait of an artist


 Hard times for artist colony


 Artist refuses to sell works


 Artist-designed bike auction
His work resumed after 1978 and he was prolific in the years that followed.
He published caricatures in various books, newspapers and magazines and released more than 30 collections of caricatures in the last three decades. Some of his books were published for English, German and Japanese markets.
"Ding was a great master of caricature," said Zhang Yaoning, vice-president and secretary general of the China Journalism Caricature Research Society.