"I was restless at the beginning but I worked hard and stuck to my plan," she says. "I didn't ask for any money from my parents. I want to prove myself."
Beijing architect Wang Yu is another who can easily relate to the stressful situation. Having worked for a State-run company since graduating seven years ago, the 30-year-old has never given up his dream of developing his own toy kingdom based on a cartoon figure called WeaKid.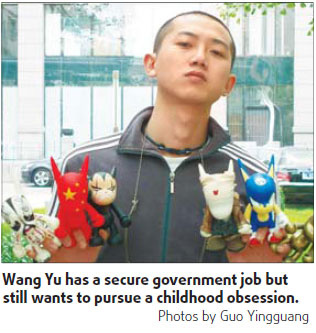 As a child, the toy-obsessed Wang spent plenty on collecting Japanese and American toys. He launched his own workshop in 2005 and is now trying to establish his own brand and popularize Chinese culture at the same time. He hopes his toys will help to change the image of "Made in China" to "Created in China".
His parents firmly believe his government job was ideal and guaranteed him a stable income but Wang wants to work for himself. "I tried to explain my goal to them," he says. "I know it is risky and unconventional from a traditional Chinese point of view but I want to try."
Lai Jinrong and his four buddies in indie rock band Lost Control of Logic are striving not only to make a name for themselves - in the past few years, they have played such small Beijing venues as D22, 13 Club and Starlive - but also to convince their parents.
"Their attitudes have changed a little from being totally against us to understanding us," says Lai. "At the beginning, they thought we just wanted to play games but later they realized we truly wanted to make it a career."
This defiance has come at a cost - one of the band was even been booted out of home by his parents. "We understand that they want us to live a healthy and happy lives but we want their recognition as independent people," says Lai. "This Cold War is useless - we need to talk."
The ba ling hou have grown up in an era of tremendous economic growth, social changes and rigorous educational requirements. The gulf between them and their parents is most evident in their purchasing habits, career pursuits and more open attitude towards love and marriages, says Zhou Xiaozheng, a professor with the Sociology Department of the Renmin University of China.
The producers of Who Determines My Youth interviewed many youngsters and tried to accurately convey their anxiety about the generation gap.
Parents' expectations of their children are often self-projections and therefore doomed to end in disappointment. "The parents do all they can to make it easy for the younger generation to do better than they did," says series director Zhao Baogang. "But the younger ones often have their own dreams that deviate from what their parents want."