It's crunch time for China's 'me generation'. They want to forge their own careers but this involves defying mom and dad.
Pi Li's future was bright indeed, just as her mother planned. Having studied in the UK for three years, the 20-year-old had a good chance of getting into Cambridge University and was due to start her own business on her return to Beijing.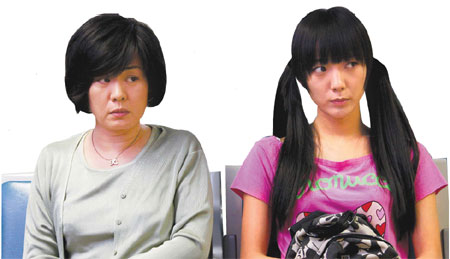 TV series Who Determines My Youth starring Qian Xiaoyang (played by Wang Luodan) and her mother (played by Cong Shan) explores the generation gap between the post-1980 youngsters and their parents. [File photo]
In fact, Pi intended to do nothing of the sort. She had actually been studying her first love - cooking - and on her return, her friends helped her to open a Western-style restaurant. A predictable storm erupted when her mother found out but Pi persisted and finally won over her parents.
So goes the TV series Who Determines My Youth (Wo de Qingchun Shui Zuozhu), which has touched many hearts with its tale of three mothers in their 50s and their daughters born in the late 1980s.
The generation gap is a familiar theme in Chinese books, movies and TV shows. Post-1980 youngsters are often called the ba ling hou, the "me generation" born after the introduction of the one-child policy and opening-up. They are now entering adulthood and beginning to play a role in society.
They are often stereotyped as spoiled and self-centered. One thing is for sure; they are more aggressive about making independent choices.
In the program, Qian Xiaoyang, played by rising mainland actress Wang Luodan, is another restless youngster. She leaves her home in the Ningxia Hui autonomous region and goes to Beijing with Fang Yu, a young man she meets on the road. Her mother takes her home but Qian still pursues her own dreams.
It is a theme that resonates with Wang Luodan, who is 25 years old and plays the role of Qian. She experienced a similar conflict with her parents and came to realize that communication was the crucial factor in finding a resolution, the same message the program tried to make.
"I was determined to pursue my dream as a drummer," she says. "I also had to compromise with my parents. It is all part of the process of growing up. Our hopes of following our own paths may or may not succeed. It is like a battle, a gamble even, but as long as we give it a try and work hard on it, it will be worthwhile."
Beijinger Liu Ting, 25, can also identify with Pi Li. "That's exactly what I've done," she says.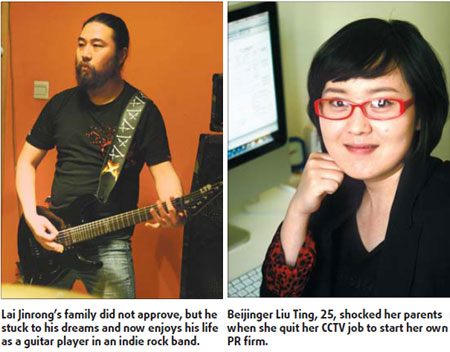 Born into a wealthy family, Liu studied acting at China Communication University and graduated in 2007. With her parents' help, she secured a job at China Central Television as an editor of a popular program. "My job was making phone calls and sitting in front of the computer," she recalls. "I was bored."
Last year, Liu started her own PR firm. When she finally told her parents, they were so shocked and angry that her mother almost fainted. The ambitious young woman is optimistic about the future, even though her company didn't earn a cent for several months.