China's rural populace had never been taken seriously by the technology firms. But it is the same rural populace that is now offering hope for computer makers as sales in the urban markets have declined due to the global financial crisis.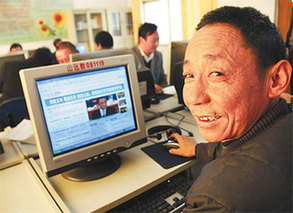 Huang Dejun, a farmer in Zaozhuang, Shandong province, smiles after attending a computer course. [China Daily]
The government's decision to offer a 13 percent subsidy for rural consumers to buy home appliances, has recently been extended to computers also. Chinese farmers have shown an unprecedented enthusiasm for computers, opening up new vistas for PC makers beset by flat and stagnant PC sales in urban markets.
Zhai Jianshe, a 48-year-old farmer from Wuji county, Hebei province, had charted plans to buy a computer last November when his son got married, but gave up the idea as prices were too high at that time. Last month, soon after the government extended the subsidy to computer buyers, he bought a Lenovo desktop from a local dealer so that he could get connected and check local market information for his produce.
"I sold my corn at 0.64 yuan (per 500 g) a few months ago but now the price has risen to 0.7 yuan," Zhai said. "And now I can check market information through my PC and also choose the best time to sell products."
According to the National Bureau of Statistics, China had 727.5 million rural residents last year. But their annual average net income was only 4,761 yuan. The low income had greatly limited rural consumers' capability to purchase computers, as even the cheapest products would cost nearly half their annual incomes.
Related readings:


 China announces $10B rural support


 Rural hydropower to get a boost


 Rural jobs hot among graduates amid downturn


 $6.6b to fund rural roads promise


 Draft law on rural land dispute eyes stability
However, computer makers believe that rural consumes are ready to buy the products that they had till now regarded as a useless luxury as it not only fulfils their unique demand but also helps them earn more money. China's huge number of migrant workers, who account for nearly 2.6 percent of the Internet users, are also helping fuel the PC demand.
"Computers for rural consumers must be different from those sold in urban areas as the demands are diversified," said Chi Hai, product manager, Lenovo. "According to our research, entertainment, children's education and agriculture information are the major reasons that rural consumers would buy a computer. So we have developed three different product lines to meet these demands."
In order to lure rural consumers, Lenovo has partnered with telephone operator China Telecom to provide a one-year service of streaming online movies and soap operas for free for its users. The company has also joined hands with domestic online education service providers to provide free online courses for children via its products. It has even teamed up with China's Ministry of Agriculture, to enable access for Lenovo users to the government's database to check agricultural data and local market information for free.
Chi said Lenovo's rural products save power to the extent of 30 to 50 percent and have also been specially designed to withstand voltage fluctuations and the humid environment. The company expects rural buyers to account for 30 percent of its desktop sales and 5 to 10 percent of its laptop sales in China this year, said Liu Jie, vice-president, Lenovo.
Distribution network
However, developing proper products for rural consumers alone is not enough to guarantee a success for PC makers. China's rural population is widely scattered, hence establishing a nationwide distribution network and after-sale service network is vital for a robust PC market.
Domestic home appliance maker Haier said earlier this year that it plans to set up 10,000 sales outlets and 5,000 service depots in rural areas. Lenovo also announced this month that it plans to establish 700 county-level stores and 7,800 sales and service outlets over the next three years.
"Our plan is to make sure that rural consumers in China can reach our sales people within an hour," said Liu from Lenovo, adding that the company plans to hire sales staff in over 320,000 villages across the country.