The reconstruction of Beichuan Middle School will kick off at 2:28 pm on May 12, 2009, exactly a year after the devastating earthquake demolished the original school. Liu Yachun, headmaster of Beichuan Middle School, hopes to make it one of the nation's best.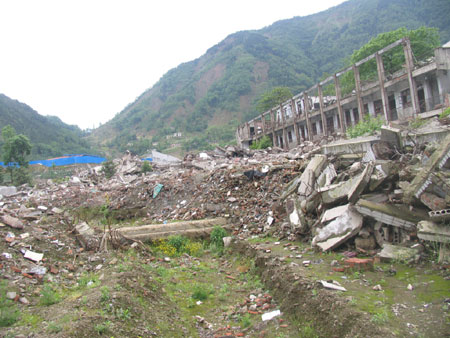 Beichuan Middle School was the hardest-hit school during the May 12 earthquake. It was complelely demolished. [chinadaily.com.cn]
Related readings:


New school opens in Chengdu


Yingxiu school to be quake proof


School tries to move on


Checks begin on school buildings


China builds stronger school in quake zone
Beichuan
Middle School
was the hardest-hit school during the May 12 earthquake, with more than 1,300 students and teachers killed or missing. Since May 19, 2008, the surviving students and teachers were relocated to
the courtyard of the Changhong training center in

Sichuan

's

Mianyang

City

, acting as their temporary school.
The school now hosts nearly 3,000 students. About 1,300 of them are Beichuan Middle School survivors, and the remaining students enrolled later, according to Liu. 
In only a year's time, they will return to Beichuan, with a brand new school beckoning. 
Funded mostly by donations from Chinese all over the world, the new school will be built in Beichuan's Yongchang Town. It will cover about 225 mu (15 hectares) and is designed to be quake-proof. The construction will be completed on May 12, 2010, Liu told chinadaily.com.cn. 
"We plan to hold the opening ceremony of the new school on September 1 next year," Liu said.