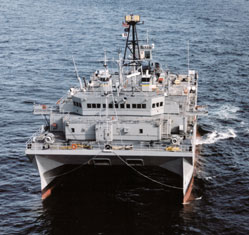 US surveillance ship USNS Victorious was involved in a confrontation with Chinese fishing boats in the Yellow Sea, May 1, 2009. [File photo]
The US surveillance ship that got into a confrontation with Chinese fishing vessels on Friday in the Yellow Sea violated international and Chinese laws, the Foreign Ministry said.
The USNS Victorious, designed for anti-submarine warfare and underwater mapping, was engaged in routine operations in international waters, said Pentagon spokesman Bryan Whitman.
But Foreign Ministry spokesman Ma Zhaoxu disagreed.
"The fact is that the USNS Victorious conducted activities in China's exclusive economic zone (EEZ) in the Yellow Sea without China's permission. China has expressed concern over this issue," he said.
Whitman said Wednesday that two Chinese vessels came within 27 m of the USNS Victorious on Friday about 110 km off the Chinese coast, forcing it to sound an alarm and turn on its fire hoses to deter the vessels.
They did not withdraw until a Chinese military ship arrived in response to an American call for assistance and shined a light on the fishing vessels to end the hour-long incident, he said.
Related readings:


China asks US to prevent illegal entry to its EEZ


More ships to patrol territorial waters


2nd ship to patrol South China Sea


More ships to curb illegal fishing


Patrol ship arrives in Xisha Islands


Fishery patrol ship sent to protect interests
China always handles foreign vessels' activities in its EEZs in accordance with the UN Convention on the Law of the Sea and relevant domestic laws, Ma said.
"We demand that the US take effective measures to prevent similar acts from happening."
The incident is the fifth of its kind within the past two months, unnamed US defense officials told AP.
The standoff peaked in early March when Chinese vessels and a US surveillance ship, the Impeccable, faced off about 120 km south of the island province of Hainan, which some Western media reported is the site of a Chinese submarine base.
The US protested to Beijing, calling it "harassment", while China said the Impeccable was on a spying mission and demanded the US cease illegal activities in the South China Sea.
The US responded by dispatching heavily armed destroyers to escort US surveillance ships operating there. It is not clear if the Victorious was under escort when the latest incident occurred.
Wang Hanling, an expert on marine law with the Chinese Academy of Social Sciences, said China has reiterated that any intelligence data gathering by foreign vessels within its 200-nautical mile EEZ is illegal.
But the US maintains it has unrestricted passage in international waters as long as vessels are not hampering the economic interests of the countries they pass. It has not ratified the UN sea convention, objecting to a clause on seabed mineral exploration.
"But in Chinese waters of course they should obey Chinese laws, not to mention that what they are doing is endangering Chinese national security," Wang said.
Niu Xinchun, an expert on American studies at the China Institutes of Contemporary International Relations, said Chinese and US authorities have shown tacit understanding by not playing up the incident.
Asked why the Pentagon was less aggressive with its words this time, compared to its fierce attacks on Chinese "harassment" in March, Whitman said on Tuesday they were "exploring ways to handle this diplomatically".
"The agreement was likely reached in the aftermath of the March confrontation, as the brawl ended at the ministry level. Both sides realized such events shouldn't hurt bilateral relations," Niu said.
But such confrontations in Chinese EEZs will continue to happen, given increasing US intelligence activities there, he said.