Maritime patrol vessels from three provinces will jointly conduct patrol missions in the South China Sea.
The patrol fleet will be made up of vessels sent by the maritime safety administrations of Guangdong, Shanghai and Hainan, an official in the Maritime Safety Administration of China told China Daily on condition of anonymity on Wednesday.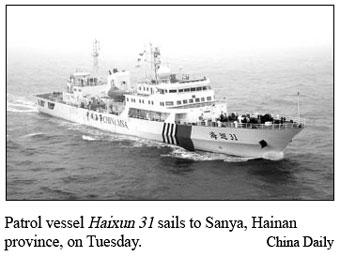 But he didn't say how long the patrol mission would last or what areas of the South China Sea the mission would cover.
"It is appropriate for China to send out patrol ships to protect its due interests and rights on a regular basis to demonstrate its resolution to secure its sovereignty," said Wang Yusheng, executive director of the Center for Strategic Studies under the China Foundation for International Studies.
Guangdong's largest patrol ship, Haixun 31, headed from its base in Zhuhai for Sanya on Tuesday to join the patrol mission starting there, People.com.cn reported.
The ship will be among other giant vessels, such as Guangdong's Haibiao 32 and Shanghai's Haixun 21, involved in the patrol mission "to strengthen supervision and inspection in China's maritime territories and guarantee China's rights in the South China Sea".
China has been strengthening its administration and supervision in the South China Sea following several incidents earlier this year, including a US naval vessel's intrusion into China's Exclusive Economic Zone and some neighboring countries' claims over China's territory in the South China Sea.
On March 10, the administration of Fishery and Fishing Harbor Supervision of the South China Sea in Guangzhou sent China Yuzheng 311, the country's biggest fishery patrol vessel, to curb illegal fishing.
It was joined on March 26 by the Guangxi Zhuang autonomous region's largest fishery administration ship, China Yuzheng 45001.
Officials also said more ships would be sent to patrol the "disputed" area in the next three to five years.
Zhou Zhonghai, an international maritime law expert with China University of Political Science and Law, said it is "natural and necessary" for China to strengthen supervision in the South China Sea as nearly half of China's maritime territory is pestered by "disputes" from some other countries.
"It is very crucial for China to guard its maritime territories this year as a new chart of maritime territory has to be submitted for approval to the United Nations before May 13 and many neighboring countries are eyeing the opportunity," Zhou said, noting eight neighboring countries have had disputes with China over sovereignty.
"This year could be the starting point of many more disputes, and strategies with a firm stance to protect marine territories are of vital importance to a country," he said.